Clydebank's Queens Quay urbanises with flagship waterfront homes
March 22 2019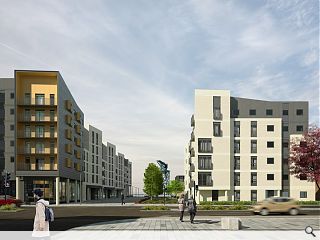 Mast Architects have obtained planning consent for a mixed-use development at Clydebank's Queens Quay, centred on 146 apartments for social rent overlooking the Titan Crane.
The first of a number of high-density residential developments planned for the waterfront the homes will be operated by Cube and Clydebank Housing Associations and adopt a robust urban form in response to a desire by West Dunbartonshire Council to create a new focal point for the town.
A strong public presence along Titan boulevard, including four street-level commercial units, is balanced by private courtyards and gardens to the rear, offering tenants spaces of greater intimacy.
The culmination of a masterplan approved in 2016 Queens Quay seeks to integrate the former shipyards and waterfront within the existing town centre.
In a statement, the architects wrote: "Mast Architects said: "Our intention was to design an exemplary architecture that sits comfortably in the historic setting of Clydebank and complements the ongoing regeneration of Queens Quay."
The homes could be on site late this year, joining other elements of the Queens Quay masterplan including a care home, health centre and energy centre.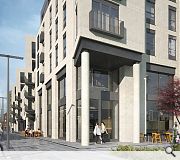 A new thoroughfare will connect Clydebank town centre to a leisure centre and college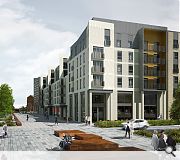 Titan Boulevard will serve as the hub of a revitalised Queens Quay
Back to March 2019