Energy Centre to power development of Clydebank's Queens Quay
October 26 2017
Plans have been submitted by to build a new energy centre to serve the £250m Queens Quay development in Clydebank, powering further expansion of the waterfront quarter with a new district heating network.
Said to be the largest system of its type ever undertaken in Scotland the facility will bolster the town's green credentials by re-using previously wasted energy from power generation and other industrial sources to heat local homes and businesses.
Part of the first phase of development on the former shipyard the energy centre will extract water direct from the River Clyde to power the entire development and could eventually encompass the Golden Jubilee Hospital and Clydebank as a whole.
Designed the ADF Partnership to be an 'attractive landmark' the glazed design sits in the shadow of the
Titan Crane
and will be delivered by Dawn Urban Regeneration, Clydeside Regeneration and West Dunbartonshire Council - which will own, operate and maintain the new heating system.
Paul O'Donnell of Dawn Urban Regeneration said: "This development will be the first of many at Queens Quay to regenerate Clydebank's Waterfront. As well as being a fantastic start to the project, it also promises to create a legacy for the whole of Clydebank by tackling issues such as low carbon energy from entirely renewable sources, energy security and fuel poverty.'
Duncan Graham of Clydeside Regeneration commented: "The development offers an opportunity to open up an area of Clydebank which has been derelict for a number of years, whilst also creating much-needed housing and other amenities in a stunning location overlooking the Clyde."
Site enabling works
have already been completed to allow a site access road and utilities to be built in the New Year, clearing the way for the energy centre as well as a
£15m care home
and £25m health centre to follow suit.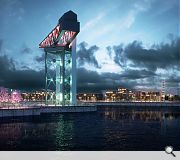 The energy centre will sit at the heart of a revitalised waterfront
Back to October 2017