Countesswells grows town centre as first residents move in
December 6 2018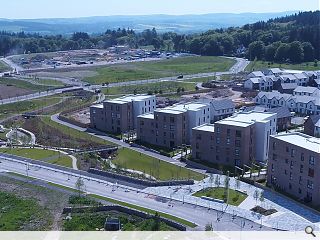 Countesswells is embarking on the latest phase of its masterplan for a north east New Town built from scratch by advertising for commercial tenants to inhabit its developing town centre following completion of the first 200 homes.
In order to provide amenities for its growing populace retail and commercial tenants are being sought to set up shop, diversifying a community which will number 3,000 homes over the coming decade, including parkland, three schools and community facilities.
Jim Fitzsimons, director of special projects at Stewart Milne Group, said: "Our ambition is to create a new community which becomes a highly sought-after place for people to live, work and play. With the announcement that plans for first school are underway and now local retail opportunities, the pieces of the jigsaw are starting to come together as planned.
"Well located within the rapidly developing community and adjacent to what will eventually be the town centre, this first commercial unit will be a welcome addition for our new and existing residents."
A further 800 homes are currently under construction by four housebuilders; Stewart Milne, Kirkwood, Barratt and Chap.
Back to December 2018