Countesswells Neighbourhood Centre wins planning
October 9 2017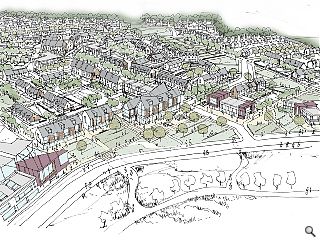 Aberdeen City Council has lent its support to the
creation of a neighbourhood centre at Countesswells
, the latest phase of a 3,000 home masterplan for a North East new town.
Consolidating the granting of planning in princip0le for the development as a whole this specific phase of implementation will include 600 homes adjacent to a new primary school and will include a mix of shops, community facilities, office space and a public square.
In a statement Countesswells project director Allan McGregor said: "Throughout the north-east of Scotland, villages and towns, which have not only grown but prospered as places with their own identity, have been built around common spaces, from the iconic, historic archway at Fettercairn, to the market squares at Stonehaven and Ellon.
"The neighbourhood centre in Phase 1b is the back bone of the new settlement at Countesswells – its shops, indoor facilities and outdoor meeting spaces are there to be used for the benefit of the people who call the community home, and are proud to do so."
Countesswells is to be phased in over the next 15 years.
Back to October 2017