Leith Walk proposal sheds student rooms to woo planners
December 6 2018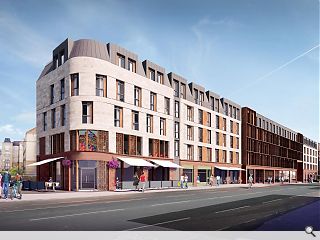 Drum Property Group have revisited proposals for a mixed-use development at Stead's Place in Edinburgh by lopping off a single storey from the primary Leith Walk elevation.
The changes have been adopted in response to consultation feedback and bring the new build into line with traditional tenement neighbours, retaining a mansard roof for visual interest and includes 471 student bedrooms, 56 hotel rooms, business units, and 53 residential flats.

As before the Halliday Fraser Munro designed scheme pointing south up Leith Walk, leading pedestrians and cyclists along a revised route to Pilrig Park which now follows 'a clear desire line separated from the vehicular surface'.
Appraising planners of the modifications the architects wrote: "The revised scheme clarifies the traffic routes through the site giving a higher priority to cyclists and pedestrians while maintaining open space of over 20%.

"The reduction in storey height results in a loss of 52 student rooms but cycle parking numbers have been maintained at those provided in the original scheme with a more diverse range of cycles now being accommodated.

"The Leith Walk elevation now ties in very clearly with the storey heights and façade pattern of Leith Walk. The distinct retail frontage at ground floor with 3 floors of residential accommodation and an inhabited roof is typical to the tenement form."
Existing gateposts and railings at the main vehicle entrance have also been retained in a nod to the sites past.

Back to December 2018