Clyde Gateway complete Cuningar Loop with bothy & tower plan
September 19 2018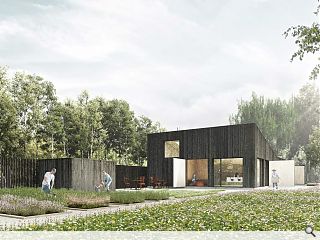 Clyde Gateway have come forward with the latest phase of Cuningar Loop with proposals to erect a new bothy and lookout tower within the parkland landscape.
JM Architects have been appointed to undertake the design for both elements with the aim of forming an adaptable gathering space which can be used for talks, events and community meetings - complete with its own elevated viewing platform offering views above the treetops.
Detailing their bothy design JMK wrote: "The design of the bothy has been developed with the qualities of the traditional Scottish bothy at the forefront. The compact linear plan derives from the 'but and ben' of traditional bothies and the multifunctional spaces allow the users to take temporary ownership of the building. The arrangement of spaces allows for flexible use with the kitchen in the heart of the plan, creating a sense of a domestic and relaxed space."
The ramped tower meanwhile will be assembled using off-site components with larch timber slats of differing sizes specified to lend depth to the façade.
The £8m forest park has been developed in partnership with the Forestry Commission and spans some 37 acres of woodland bounded by the River Clyde on three sides.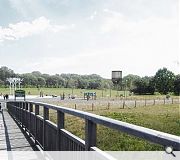 An elongated ramp and walkway will provide access to the tower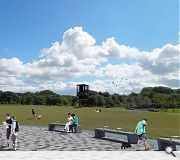 The tower will double as a marker for the wider regeneration of the area
Back to September 2018