Cuningar back in the loop with 15 hectare woodland park
September 20 2017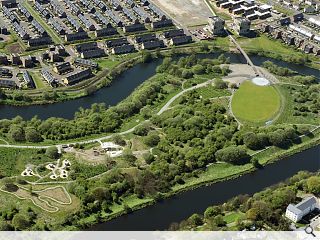 Civil engineering firm Robertson has marked the opening of a huge £9.3m urban outdoor space in Glasgow with the transformation of 15 hectares of former abandoned landfill, including rubble generated by demolition of the nearby Gorbals.
Cuningar Woodland Park was conceived by Forest Enterprise Scotland to breathe new life into a forgotten meander in the River Clyde and is
accessible by a pedestrian and cycle bridge from the Commonwealth Games Athlete's Village
, delivered as a separate project.
This will give access to a network of new walking and cycling routes as well as adventure play areas and an outdoor bouldering facility, all landscaped by Gillespie's with 15,000 trees and shrubs.
Tony Fry, Managing Director of Robertson Civil Engineering said: "This particular site posed a number of challenges, as it had previously been used as a quarry, illegal mine and for landfill."
Artists in residence Rob Mullholland and James Winnet have also been
commissioned to bring life to the park with bespoke sculptures and artwork
.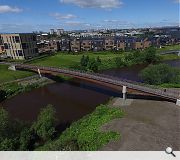 The 'woodland retreat' is expected to attract 120,000 visitors this year
Back to September 2017