Bowling club decline sparks Cathcart housing bid
August 20 2018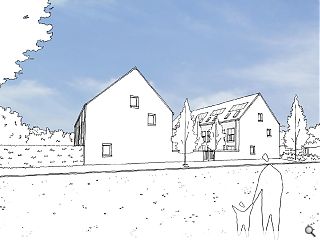 Hoskins Architects are taking the lead on converting the former Cathcart Bowling Club to residential use, the latest in a string of developments on former bowling greens around Glasgow.
Ten terraced homes are planned by developer Noah across two separate blocks sharing a private, gated, courtyard and are designed to sit harmoniously with the retained clubhouse and remaining green.
Setback from Elrig Road each pitched roof terrace will be finished in brick with dark grey fibre cement roof tiles, oriented on an east-west axis to maximise environmental performance.
In a statement the architects observed: "The height and massing of the blocks echo the surrounding built form and have an appropriate relationship to the neighbouring clubhouse building. The facade has elegant floor to ceiling openings maximising natural daylighting into the internal spaces.

"The fenestration has a regular rhythm creating a simple and elegant composition to the elevation and forming
an appropriate presence to the street edge. The double pitched roof echoes the surrounding roof forms and have carefully
placed rooflights and solar panels which complement the window openings below and reinforce the calm composition."

Dwindling numbers of players have seen a string of former bowling grounds developed or earmarked for development in recent years including; Corunna, Newlands and Partickhill.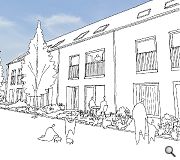 A shared courtyard provides amenity space as well as access to each home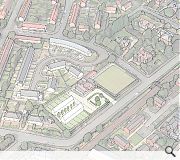 One of two existing greens will remain in use for lawn bowls
Back to August 2018