Bowling club demise sparks Finnieston turf war
|
Send to friend
May 14 2018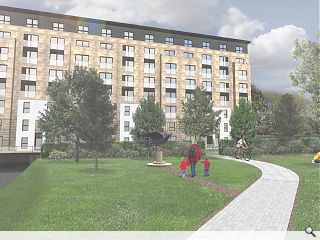 A development of 39 flats is in play for the former
Corunna Bowling Club at St Vincent Crescent
in Finnieston, following the submission of plans by applicant Nixon Blue and their architect, Jewitt and Wilkkie.
It is proposed to erect an eight storey residential block on the former club, containing a mix of flats and duplexes with underground parking, in addition to a publicly accessible garden and amenity space fronting the A-listed crescent itself.
Mindful of the surrounding conservation area a stone façade above a rusticated base has been specified with polished pre-cast surrounds used to delineate entrances.
Yorkhill & Kelvingrove community council remain unimpressed by the plans however, demanding the right to explore 'other green space uses' for the site.
In a statement the architects observed: "The opportunity to immediately reinvent a now redundant site in an important Glasgow conservation area should be realized, before the site becomes another derelict vacant site – of which Glasgow currently has too many.
"To reflect the conservation area character the proposal id for a three-tiered façade with generally a 3-4 bay rhythm. A contemporary interpretation of a rusticated base and a deep parapet have also been used."
Corunna Bowling Club closed for good in October last year.
Back to May 2018