Structural engineers to save condemned Glasgow landmark
August 20 2018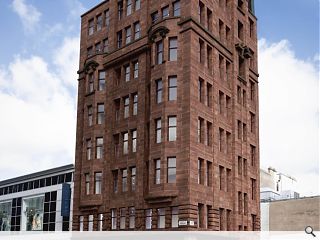 The tortured recent history of a B-listed Glasgow landmark may yet have a happy ending following a change of ownership and submission of plans to convert a disused seven storey block on the corner of Argyle Street and Miller Street.
In 2015 Darling Associates followed up their 2011 façade retention bid with an application for full demolition, claiming that corrosion of the hybrid steel and concrete structure made its re-use impossible.
A more recent structural assessment by David Narro Associates, aided by a wraparound advertising scaffold, has reached a markedly different conclusion however, with engineers now of the opinion that the building can be saved other than failing brickwork to the rear - which will be rebuilt in a contemporary style.
Overseen by ZM Architecture this will retain surviving interior elements such as a stone staircase, steel balustrading and lift shaft. In a statement ZM wrote: "This work is ongoing and a detailed stone enabling contract is to be organised so that full refurbishment of the façade can be undertaken with known risks and methods for stone replacement and treatment for frame conversion.
"This is a slow but methodical process and means that we will be applying to extend the approved scaffold erection period."
Incorporating commercial uses at ground and basement levels the project will see renovation of the two primary facades with like for like replacement sash and case windows, together with an eighth floor 'penthouse' extension and private roof terrace in contrasting brickwork.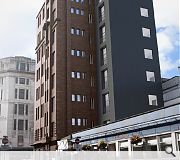 A dark panel clad extension will be built to the north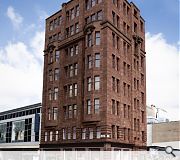 An eighth floor penthouse flat with private south facing roof terrace will be added
Back to August 2018