Network Rail appoints Arup to pen Waverley Station masterplan
August 14 2018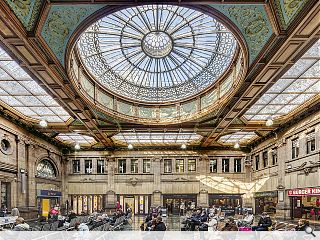 Network Rail has named Arup as lead consultant in a process which will lead to the creation of a new masterplan for Edinburgh's Waverley Station to accommodate an anticipated doubling in footfall from 24m today to 40m by 2024
To be drawn up in partnership with the City of Edinburgh Council the document will set out how the station should develop to accommodate anticipated growth in passenger numbers while taking into account current and planned developments such as New Waverley and Waverley Mall.
Arup will lead a team comprising Grimshaw and Allan Murray Architects as well as JLL, Gardiner & Theobald, Jura Consultants and Streets UK. Together they will publish a set of recommendations by mid-2019 for the next phase of the stations development.
Elliot Wishlade, project director for Arup said: "The Arup team is delighted to be working with the masterplan steering group to create a vision and a plan which not only meets future travel needs but creates new and exciting facilities, spaces and infrastructure that will make this part of the city work better and be more enjoyable for everyone."
Network Rail has already carried out a series of platform extensions to accommodate next generation rolling stock as part of the Edinburgh Glasgow Improvement Programme.
Back to August 2018