£23m Waverley Station extension on track
February 10 2017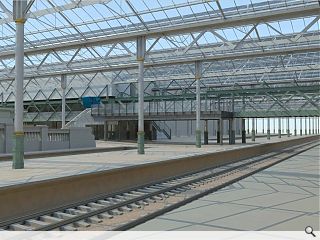 Network Rail is pressing ahead with a £23m programme of platform extensions at Waverley Station to deliver on its promise of longer, faster trains.
Platforms 5,6 and 12 are in line for a remodel as part of the works, enabling them to accommodate a new breed of Azuma trains operated by Virgin East Coast and Scotrail's class-385 rolling stock.
This will require removal of a number of redundant structures and relocation of existing escalators, with Arup set to get preparatory works underway in April. These capacity improvements should be in place by 2018.
Rodger Querns, Network Rail programme director, said: "Completing such a significant piece of engineering work in the heart of one of the country's busiest stations will be a significant challenge for our engineers and contractors and we are committed to carrying out these enhancements as quickly as possible and with the minimum of inconvenience for passengers."
The improvements form part of a wider package of works necessitated by the Edinburgh Glasgow Improvement Programme which will reduce travel times between Edinburgh and Glasgow by 10 minutes in addition to boosting capacity.
Network Rail completed a
£130m upgrade of the UK's fifth busiest station in 2013
.
Back to February 2017