Glasgow consults on George Square pedestrianisation
August 14 2018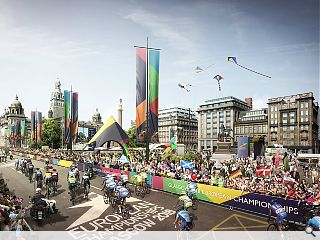 Glasgow City Council is considering taking the dramatic step of permanently banning all traffic from George Square following a series of temporary road closures around the central civic space to accommodate the European Championships.
Those with an interest in the square are being invited to complete a short survey in which respondents can have their say on whether they agree or disagree with a permanent remodeling.
Council leader Susan Aitken said: "I think most Glaswegians would like a George Square that is focused more on people, rather than cars - but, with the experience of the European Championships fresh in people's minds, we're keen to hear what the city feels would work.
"We're already making some other significant changes to how the city works and moves; including establishing Scotland's first Low Emissions Zone and dedicating more space to walking and cycling through our £115m Avenues project."
Back to August 2018