Allander Leisure Centre heralds a new era of combined leisure & care
March 7 2023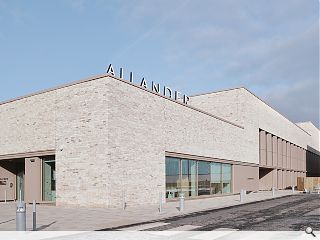 A new leisure centre has opened its doors in Bearsden, East Dunbartonshire, billed as a new breed of combined leisure and adult day care facility.
Designed by architects HolmesMiller as a potential template for future civic projects the Allander Leisure Centre stands as a direct replacement for an original sports complex built in 1978.
The £42.5m facility offers support services for adults with learning disabilities as well as a multitude of sports facilities including a swimming pool, games hall and squash courts.
Hosting physiotherapy treatment, training kitchens, arts and craft, dance and music rooms the multi-purpose venue is focussed upon a triple-height timber-clad atrium that doubles as an events space and cafe.
Prioritising multi-purpose spaces the leisure centre is intended to offer the flexibility to meet changing levels of demand throughout the year and accommodate local sports clubs.
Ian Cooney, project director at Holmes Miller said: "As the design of health and wellbeing facilities adapts and evolves to ensure local authorities can provide good value for their communities, Allander is a leading project and representative of this new trend.
"When we were asked to bring leisure and adult day care facilities together into one inclusive community hub, we saw this as a chance to break down barriers and make a real difference to the lives of many different groups of users."
A second phase is now planned for completion this autumn, delivering a 'sports dome' comprising two football pitches and a tennis court.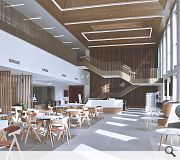 A pared back internal environment is designed to induce calm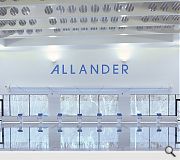 The project team also includes McLaughlin & Harvey, BakerHicks, Doig+Smith, Barton Willmore and Brown & Wallace
Back to March 2023