New look George Square takes shape
March 7 2023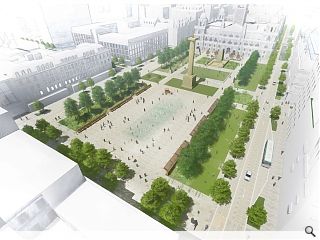 Glasgow City Council has progressed its plans for George Square, solidifying concept proposals to include stone paving, an informal play area for children and a sensory garden.
The established design principles will guide the future utility of the public space, which includes an event space and spill-out area for cafes on surrounding streets. Future visitors will be greeted by a possible water feature and raised lawn with the square split between a formal green to the east with events reserved for the western half.
Celia Guerreiro, associate, John McAslan + Partners, said: "As designers, we feel privileged to be involved in such a significant project that will see the transformation of Glasgow's public realm to become a green city accessible to all. Sustainability and response to climate change were strong drivers of our brief, alongside a fundamental commitment to community engagement and dialogue, informing the process of design and involving extended public consultation."
Intended to complement the ongoing delivery of the Avenues project the work is being pursued in tandem with improvements to John Street, Hanover and Miller Street, a section of North Hanover Street and Cochrane Street to be carried out between 2024 and 2026.
A further wave of improvements will encompass St Vincent Street, George Street, Dundas Street and Dundas Lane by 2028 as part of a 'people first' strategy.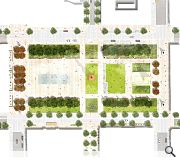 The new look square will be split between formal and informal functions
Back to March 2023