City Building open Springburn training college
March 7 2023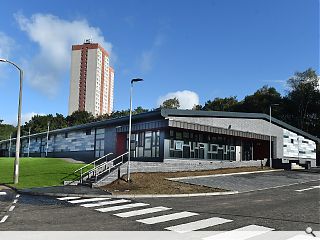 City Building has taken possession of a new training college to teach trades and skills to up to 250 apprentices per year.
Designed and built by staff and apprentices of City Building the training college was built using timber kit infill panels manufactured on-site at the RSBi factory, with aluminium plank rain-screen cladding reflecting City Building's grey/black corporate identity.
Combining traditional trades such as stonemasonry and brickwork as well as newer disciplines within the renewables and technology sectors.
Frank Mitchell, chair of Skills Development Scotland, said: "Designed by industry, for industry, apprenticeships not only help the economy but also create sustainable jobs across all parts of Scotland. These opportunities have been taken by individuals from across society, including many young people traditionally with restricted opportunities to progress who have gone onto flourish in the workplace."
The college is powered entirely by solar energy and air-source heat pumps, with surplus energy routed to Royal Strathclyde Blindcraft Industries next door.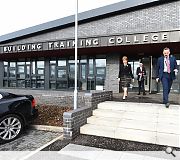 The training centre will welcome up to 250 construction apprentices every year
Back to March 2023