Allander steps up with translucent civic hub
March 11 2020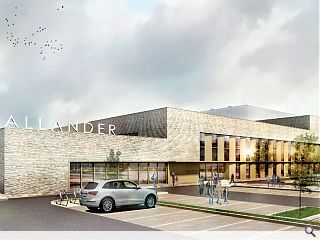 Holmes Miller and LDA Design are aiding the delivery of a new leisure and adult resource centre at Allander under the direction of East Dunbartonshire Council.
Juggling the need to provide a sports facility alongside a care environment for people with learning challenges the civic hub has been conceived as four principle elements namely a sports drome; dry sports hall, pool and adult resource centre all stacked in ascending order in an L-plan.
Each component has been arranged as a 'cascade' of layered masses to disguise the bulk of the main halls from view on arrival.
Planning documents filed with the local authority explain: "… the massing blocks are arranged such that they step up sequentially so the largest mass is positioned to the northeast corner - this visually limits the apparent scale of the building.
"The L-shaped footprint places the building towards the rear of the site, giving the civic elevation (south) prominence."
A translucent polycarbonate lightbox will summit the stepped profile, denoting the games hall beneath, slotting alongside a light-tensile roof structure which will emit a soft diffuse light at night.
Overlapping glazing will maintain a consistency of approach with a mixed palette of timber, glass, aluminium, rubber and cork employed internally, dominated by a generous triple-height atrium lined with timber cladding along the ceiling and eastern wall to manage acoustics.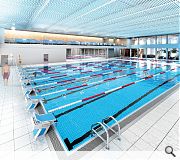 An eight lane 25m pool will be provided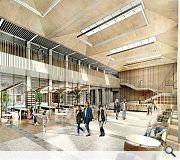 The main atrium will double as an event space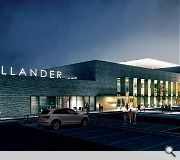 Translucent roof elements will crown the civic hub at night
Back to March 2020