New residents hub to serve Ayr waterside community
March 8 2023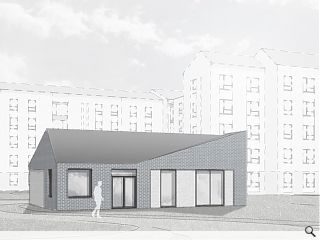 Plans for a replacement residents' hub in Ayr have been filed by LMA Architects, replacing a portacabin serving three condemned tower blocks with a purpose-built facility.
Meeting the needs of an expanding population at Riverside Place the single-storey community building would provide a communal meeting spot for residents with a private meeting room and accessible facilities for future residents.
Following planning approval in 2021, the hub must be repositioned as one of the towers under demolition has been temporarily reprieved, necessitating a reconfiguration of planned housing for a council-backed estate renewal programme.
In a design statement, LMA wrote: "The location allows the hub to be placed closer to the river walkway, a significant distance from the vacant remaining tower to allow future demolition offsets while feeling like a part of the overall development.
"The pavilion orientation follows the logic of the broader design intent, sitting angled to the river and set back from it, on a relatively flat area on site. This also allows for its own external open space. The footprint has been kept minimal, to appear as an ancillary building and structure."
A pronounced corner element acknowledges the River Ayr, delivering a higher ceiling to communal areas. The hub will be finished in dark brick with lighter brick used for window reveals and surrounds.
Back to March 2023