Final consultation for George Square and environs opens
July 11 2022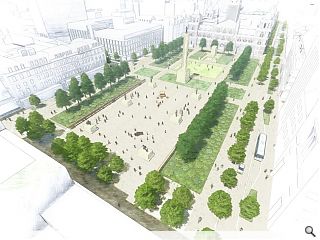 A final public engagement exercise on the future design of George Square and the surrounding Avenues has begun.
An initial sketch has been developed to seed discussion around the finished form of both the square and around 2.5 kilometres of the surrounding streets in what is the George Square Area Project.
Councillor Susan Aitken, leader of Glasgow City Council, said: "This final engagement will not only see their thoughts on our city's most historic and loved public space take shape; but also give Glaswegians a final chance to influence the final design."
The final stage will feature online engagement at https://www.ourplaceglasgow.com/get-involved/george-square, a pop-up display in George Square and a series of sessions with stakeholder groups.
The redesign of George Square is being delivered alongside with the surrounding Avenues over two phases. The first phase will see George Square, John Street, Hanover and Miller Street, a section of North Hanover Street and Cochrane Street commencing construction in 2024 with completion due in 2026.
The second phase of construction - at St Vincent Street, George Street, Dundas Street and Dundas Lane - will be completed in 2028.
The scheme is part of the wider £115million Avenues public realm project.
Back to July 2022