Initial design proposals aired for 384 Finnieston BTR flats
February 28 2023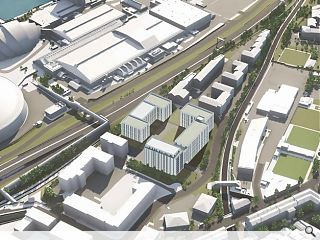 Redevco is holding a second public consultation outlining proposals for approximately 384 build-to-rent (BTR) flats at Minerva Way, Finnieston.
Cooper Cromar's initial proposed design would see two interlocking U-plan blocks frame a central gathering space, with upper floors pulled back to reduce apparent impact.
External amenity is also planned through rooftop terraces and balconies. Linking to the adjacent G3 development the project also includes a children's play park and public space to the north, achieved by realigning the site boundaries of an existing consent.
In a consultation statement, Redevco wrote: "The proposed scheme has been pushed back from the north boundary which creates good quality usable public space and children's play area along the street edge.
"The smaller footprint creates additional external quality amenity space both for the residents and the public. These positive key moves have driven the reciprocal requirements of additional storey height / residential units."
Limited parking is to be complemented by on-site bike stores.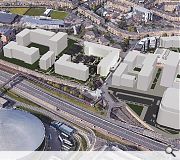 A wave of residential development is transforming land north of the Clydeside Expressway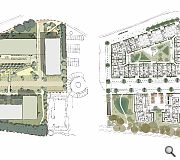 Hundreds of homes will be split between two symmetrical blocks
Back to February 2023