Climate emergency prompts a reappraisal of Finnieston flats
February 2 2023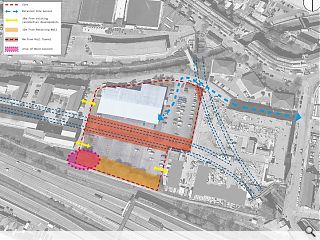 Redevco is soliciting views on its aspirations to deliver a build-to-rent apartment scheme in Finnieston, Glasgow, after throwing out approved plans which relied on a gas-powered combined heat and power plant.
The real estate investment group has invited Cooper Cromar to draft alternative plans for 11 Minerva Street, which already has planning consent for 195 flats, after finding that whole-life carbon emissions exceeded its targets.
Explaining the need to go back to the drawing board Redevco wrote: "This approved scheme on the site was designed in 2019; however, in the intervening period of time there have been updates to Building Regulations, particularly in relation to energy. This means that the approved design must change to accommodate those new requirements.
"Redevco are revisiting the existing planning permission for the site to remove elements of the scheme which are not sustainable and inconsistent with their Mission 2040 policy, which requires that all of their property and developments achieve Net Zero Carbon by 2040."
The new consultant team emphasise sustainability in their approach, which will instead rely on a heat recovery system to warm homes. This in turn necessitates a full review of all flats, communal and amenity areas to maximise performance.
A public exhibition of the new plans is to be held in The Moxy Hotel, 140 Finnieston Street, between 14:00 and 19:00 on 28 February.
Back to February 2023