276 'urban villa' apartments proposed for Cathcart
March 1 2023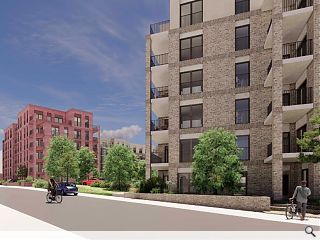 Housebuilder Cala has held a second public consultation for a proposed residential development at the Celeros Works on Inverlair Avenue, Cathcart.
Four apartment blocks comprising 276 flats are planned by 7N Architects for surplus industrial land, surrounded by a new network of semi-private courtyards accessible from an arterial amenity route.
In a proposal outline Cala wrote: "The proposals reinforce the urban edge of Cathcart whilst creating a highly landscaped, sustainable place to live. The building forms and massing respond to the existing typologies around the site whilst maximising density in order to create a vibrant community.

"The massing of the development will be broken into smaller parts by
incorporating balconies, set-backs and landscaping in order to respect and
 reflects the varied context of the area. The buildings will be 4-6 storeys in
height and reference the scale of the tenements and Cathcart House which
'book-end' the southern and northern ends of the site."

"The development will break the continuous form of the existing factory wall
and allows the opportunity to bring more light, air and landscape to the street
edge."
Each 'urban villa' will be finished in red-buff brick, opening directly onto Inverlair Avenue with the removal of a factory wall.
Subject to the necessary approvals construction could begin this winter for completion by spring 2025.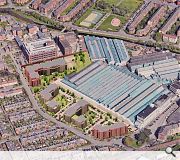 Each apartment block is conceived as an 'urban villa'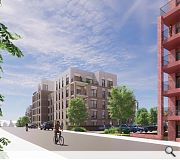 Removal of a brick boundary wall will open the site up to Inverlair Avenue
Back to March 2023