Down to earth approach sees O'DonnellBrown triumph in Crichton comp
February 2 2023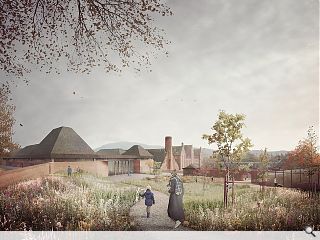 O'DonnellBrown Architects have seen off a daunting 69 challengers to win the Crichton Project design competition, organised by RIAS Consultancy.
The largest competition yet overseen by the dedicated competitions arm of the RIAS centred on a £15m cultural centre on the outskirts of Dumfries, which seeks to improve mental health and wellbeing while complementing existing facilities within the 85-acre parkland estate.
Set to rise on the site of a former hospital laundry the new facility will house exhibition and archive facilities to improve research and access to The Crichton Archive, improving understanding of the role played by The Crichton in marrying mental health care with arts and health over the past 180 years.
Housing a visual arts and exhibition space, study area and resource centre the work involves repurposing the existing Merrick Building, by utilising natural materials such as earth to connect with a new landscape of gardens and courtyards.
Conceptual designs prepared by O'DonnellBrown, with White Arkitekter and Ekkist, have been embraced by The Crichton Trust and will now engage with the public and organisations to make the idea a reality.
Michael Dougall, director at O'DonnellBrown commented: "The structure of the competition, set by the RIAS, provided the opportunity for a truly collaborative design process. Working alongside White Arkiteker, Ekkist and the wider consultant team we enjoyed how the range of expertise and experience across the team directly influenced and shaped our design response."
Four other teams were shortlisted for the prestige project; namely Caruso St John with Loader Monteith Architects; Hoskins Architects; MUMA and Sutherland Hussey Harris with Graeme Massie Architects and ScottWhitbyStudio.
Tamsie Thomson, chief executive of the RIAS added: "When we launched the competition, we described it as a step-change for RIAS Consultancy as we enabled participation by practices of all shapes and sizes, with a deliberate focus on collaboration."
The winning team will work alongside a broader project team comprising ZM Architecture as heritage and conservation specialists, quantity surveyor McLeod + Aitken, Civic Engineers, M&E consultants Harley Haddow, landscape architect Land Use Consultants and Carbon Futures as environmental consultant.
A separate planning application for purpose-built facilities for the current tenant of The Merrick is being pursued in tandem.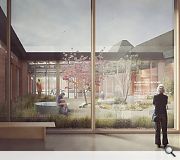 A new landscape of courtyards and gardens is to be created
Back to February 2023