Glasgow grid punches west in a towering residential vision
November 24 2022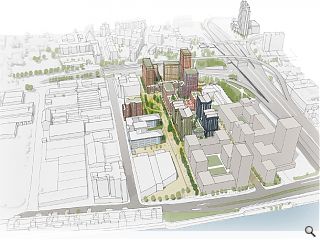 Consultations have opened for a significant brownfield development on a giant edge of centre site in Glasgow.
Summix CQG Developments wish to hear your thoughts on plans for hundreds of student and private homes at Central Quay as part of ongoing efforts to bring the huge site back to life.
Up to 800 purpose-built student bedrooms developed in conjunction with the University of Glasgow are planned as well as over 400 private homes, to complement the modernisation of existing offices.
Driven by a desire to restore lost population density the early plans call for a westward extension of the city centre's gridiron road layout, framed by new public spaces and tree planting. 'Green streets' of seating and planting will connect open squares designed to host informal events. An active spine meanwhile provides a route to the river lined by restaurants and outdoor seating.
Private courtyards and green roofs will also provide private amenities for residents, including opportunities for shared food cultivation and gardens.
In a statement, the applicant wrote: "The site has a history of density, lost as a result of the decline of local industry. The drive to return greater population density to the city centre provides the opportunity to bring new life back to these currently dormant and underdeveloped locations. The desire is to create a vibrant mixed-use community. The typology of the Glasgow urban grid has been overlayed onto the site to guide massing & density. We want to re-introduce the Glasgow grid including the hierarchy of streets & spaces."
Graeme Nicholls Architects are co-designing the masterplan in collaboration with 3DReid, with specific responsibility for one of the residential blocks.
Back to November 2022