Drone deliveries on the horizon at Brechin 'last mile' logistics hub
November 23 2022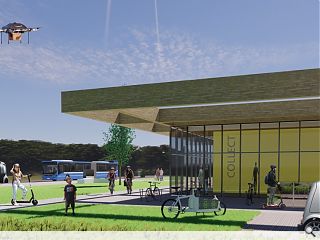 Drone deliveries are set for takeoff in Angus with early plans to transform Brechin Business Park into a 'last mile' logistics hub.
Ristol Consulting with Alastair Forbes Architect has filed a proposal of application notice for a green transport node comprising a natural gas and green hydrogen refuelling station alongside recharging facilities for electric vehicles and a drone services facility.
The Angus Rural Mobility Hub seeks to decarbonise deliveries providing the necessary infrastructure for clean alternatives to heavy goods vehicles. This will be accompanied by an interpretation centre to guide other towns toward pursuing similar goals.
The ambitious vision seeks to establish the region as a leader in the transition towards a low-carbon economy by facilitating the adoption of novel transportation solutions and alternative sources of energy.
Among the planned transport initiatives to be housed at the multi-use hub is a carpool, bus interchange and micro-mobility solutions such as electric and cargo bikes.
Billed as the first of its kind in Scotland the hub is promoted by Angus Council as a 'living lab' that will be delivered in partnership with Dalhousie Estates, with support from the Universities of St Andrews and Dundee.
Back to November 2022