Parkland push revitalises brownfield land in Dalmarnock
November 23 2022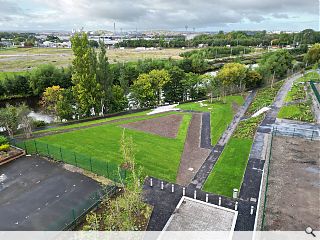 Clyde Gateway has cut the ribbon on a £3.1m park in Dalmarnock, as part of ongoing efforts to revitalise vacant and derelict land.
Facilitating direct access to the Clyde Walkway Riverside Park introduces a network of footpaths to the river, improving access and amenity with landscaped areas, play spaces and lighting. Improving connectivity with surrounding residential neighbourhoods the green space can be accessed from Solway Street, off Carstairs Street.
Enhancing the desirability of neighbouring land for commercial and residential development the park, designed by Ares landscape architects, includes 5,000 sqm of shrubbery and 45 trees.
Clyde Gateway board member Rosie Robertson said: "The park's design opens up views of the River Clyde, maximising its proximity to the water. It's really important to us that we support as many people as possible to access the park, one of the reasons why lighting has been installed throughout, making it brighter and safer."
Further work is taking place at Old Dalmarnock Road, where a 5.7-acre site is being turned into an active greenspace.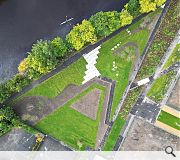 Terraced pathways draw pedestrians down to the riverbank
Back to November 2022