Emergency listing request for Cumbernauld town centre rejected
November 23 2022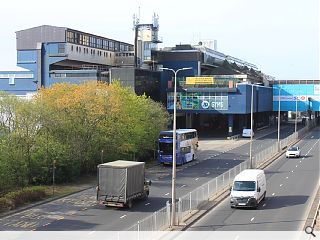 Historic Environment Scotland (HES) has rejected a request by a member of the public to grant emergency protection to the under-threat Cumbernauld town centre megastructure, after conceding that development proposals are too far advanced.
North Lanarkshire Council is progressing with plans for a new town hub on the historic site that would sweep away the New Town's main calling card.
Dara Parsons, head of designations at HES, explained: "When making decisions about designations, we consider the individual circumstances of each case. Because of the advanced development proposals for Cumbernauld Town Centre, we decided not to proceed with listing at this time. Although we have decided not to list the site, we hope that our report will inform the decisions that are made about the site.
"Given the significance of the building in the context of urban architecture and town planning, we will now extensively survey and record the building and make this information available on our website."
The heritage body conceded that the main building, constructed between 1963 and 1972, is of special interest for listing but its hands are tied owing to the progression of redevelopment plans.
Back to November 2022