Important slice of Dundee retail history to be razed following a devastating blaze
November 17 2022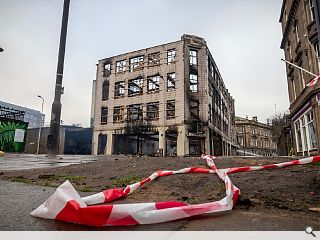 A B-listed former furniture store in Dundee is facing immediate demolition after a major fire tore through the art deco landmark.
Willison House on Barrack Street has been cordoned off for public safety following the weekend blaze, after being handed over to control of the council by Police Scotland and the Scottish Fire & Rescue Service.
A subsequent assessment by the City Engineer and building standards officers discovered major distortion and cracking of the masonry facade as well as a compromised internal steel frame which holds the structure in place.
Outlining the need for immediate action a spokesperson for Dundee City Council said: "Only the exterior walls of the building have been left following the fire and these are in a dangerous condition and likely to collapse.
"That is why we have a duty in the interests of public safety to move as quickly as possible to demolish what is left of this once fine building. Despite our efforts to consider how much of Willison House could be retained, the extent of the fire has left nothing that can be saved
"Due to the urgency of the situation, the cost of demolition will be met by the Council. The council will be pursuing the owner for reimbursement."
The incident scuppers plans by Structured House Group which had intended to incorporate the facade within a larger £20m mixed-use project.
Back to November 2022