Spiralling costs spell changes at A-listed Glenrothes landmark
November 18 2022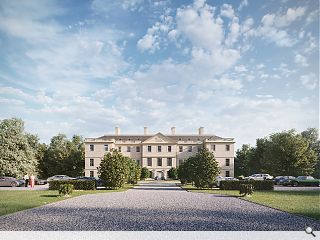 Amended plans have emerged from Davidson Baxter Partnership for the conversion of the historic Leslie House in Glenrothes to form 24 apartments together with eight new build homes on the grounds.
Several non-material variations are proposed including alterations to the footprint of extensions to the main building and the substitution of a carport for a garage in the gatehouses.
Having stabilised the building Byzantium Developments intend to fund the repair of the fire damaged, A-listed, property through the construction of new build houses, something it wishes to do in parallel with restoration works to maximise construction synergies.
Evidencing its desire to progress both elements simultaneously the developer cites a 69.6% increase in timber costs in the past year and a 10% rise in the price of bricks and blocks. Government figures are also said to show a 51% hike in the cost of fabricated structural steel over 12 months.
In a statement, Byzantium observed: "Moving forwards, material suppliers and contractors have confirmed that the shortages of materials and long lead-in times for delivery will continue for the foreseeable future with further price increases and operational costs (also impacted by current world events, international demand, and fuel costs) likely. Some legislative changes are also driving up prices. There remains an uncertain environment within which the ability of developers to have appropriate phasing flexibility, as being applied for here at Leslie House, will undoubtedly assist with project delivery."
The 17th century classical country house dates from 1667, originally serving as a courtyard palace for the Seventh Earl of Rothes.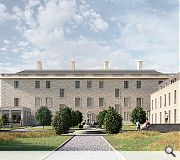 New build homes within the palace grounds will fund renovation of the main building
Back to November 2022