£20m mixed use project to add a new layer of history in Dundee
May 2 2017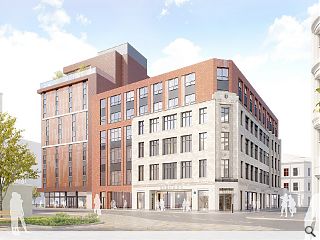 ADF Architects have dusted off revised plans to create a
mixed-use development comprising a hotel, student residences and a restaurant
behind the retained façade of a B-listed art deco furniture store on Dundee's Barrack Street.
Prepared on behalf of Structured House Group the plans will see the tiled façade repaired and refurbished to serve as a 'memory' of the sites historic function following an outcry over initial moves clear the site.
In their design statement the architects highlighted the 'layering' of heights, set-backs and materials in their new approach, stating: "The student residencies block will be set back from the retained facade by a meaningful distance, creating a new facade of 6 street front storeys (clay brick) which will follow the line of the original street, but on a recessed plane.
"The separate hotel building rises to 8 storeys on the corner facing Willison Street (clad in copper coloured panels). The hotel then rises to 10 storeys (brick, glass and metal clad), and sits perpendicular to the street overlooking the existing ground level car park and provides elevations to the adjoining sites."
Arranged in a U-plan the £20m complex will wrap around a central courtyard to reinforce the street edge.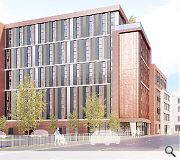 700sq/m of student amenity space is planned as part of the scheme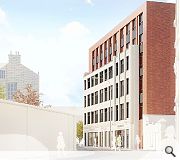 The distinctive chanfered facade of the art deco landmark will remain
Back to May 2017