Affordable homes prioritised in Leith Walk planning revision
November 10 2022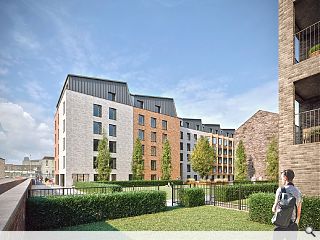 Revised plans have been brought forward by Manson and CW Properties for a mixed residential project at 139 Leith Walk, to up the provision of affordable homes from 18 to 27.
Again including 230 student bedrooms and 27 build-to-rent flats, the changes retain an active travel route through the site as well as a new civic space.
Outlining the proposed changes the architect wrote: "The affordable housing has been relocated southwest, away from the northern boundary, and it now sits behind the tenements on Leith Walk. This is considered to be an improved relationship between the existing and proposed uses on and around the site.
"As a result of the affordable housing building relocating to the rear of the Leith Walk tenements, the student accommodation building has reduced in footprint and scale. It is now arranged in a short "L" shape.
"The northern boundary of the site is now public realm and supports the decision to promote the northern route from Leith Walk to Thorntree Street as the primary active travel route from east to west."
Material changes to the original submission in the spring include the consistent use of red and blonde brick across all buildings and a redesigned roofscape to achieve a flatter skyline profile.
The scheme stands opposite The Red Sandstone, a newly refurbished Art Deco retail parade.
An active travel route and civic space sit at the heart of the proposals
Back to November 2022