Mixed residential plan to open up inaccessible Leith Walk address
April 13 2022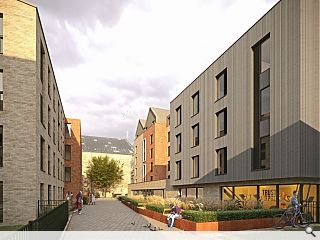 A mixed residential development of brownfield land east of 139 Leith Walk has been filed with Edinburgh planners, requesting the replacement of a vacant warehouse with a variety of student, private and social housing.
Plans prepared by Manson on behalf of CW Properties, Cambay and CA Ventures include a ground floor commercial unit suitable for community use, below 236 student beds. A further 18 social housing properties and 27 private apartments are provided in the first planning application for the Leith Walk / Halmyre Street Place brief prepared by the City of Edinburgh Council.
Opening up the expansive interior plot with new areas of public realm and open space the build will establish new pedestrian lanes fronted by a gym, dining hall and community space through to Halmyre Street and a connection to Manderston Street below a dramatic railway arch.
Outlining their design aims Manson wrote: "Our design goal has been to create a series of characterful geometric forms, heights and shapes. One of the key drivers in this aspect was to create a dynamic skyline found in the central part of the site; this form projects above the Thorntree Street datum in order to definitively create a central focus to the site.
"Our aim has been to create well proportioned and varied built forms for the individual buildings in our proposal. Individually they each have their own character but they visually merge together as one in the overall masterplan design ethos."
Primarily finished in brick with areas of fibre cement cladding the tenement-scale buildings will rise above two sunken rain gardens.
Back to April 2022