Wavegarden rebrand switches emphasis from surfers to staycationers
November 10 2022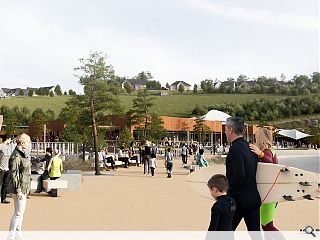 Wavegarden, the planned £55m inland surf spot at Ratho, near Edinburgh, has been rebranded as Lost Shore Surf Resort to emphasise its staycation offer.
Scheduled to open in the summer of 2024 the former quarry is being transformed by HarrisonStevens landscape architects, who will introduce a mix of waterside accommodation, leisure facilities and a 60-acre country park - in addition to a headline surf school.
Andy Hadden, founder of Tartan Leisure Ltd said: "We wanted a name that truly encapsulates everything that our leisure destination will represent - family, wellness and adventure.
"For those not yet ready to try the incredible sport, there will be plenty of other activities to enjoy, including dining options and free access to a number of walking trails. All of which are under construction and making progress."
The industrial land is being transformed into an unlikely surfers paradise courtesy of the latest wave machine technology which promises to deliver the perfect swell every time without relying on Mother Nature.
Back to November 2022