Stead's Place revisited with scaled-back proposals
December 17 2020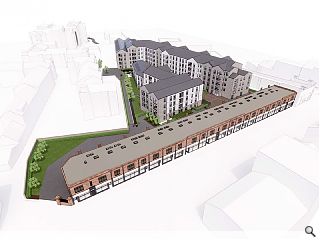 Halliday Fraser Munro, on behalf of Drum Property and Camvo 123, have pivoted to a plan b to develop a contentious 1.3-hectare site at the foot of Leith Walk after encountering heavy resistance to their initial scheme.
The updated approach will now see a 1930s red sandstone building fronting Leith Walk retained and refurbished, complete with replacement shopfronts and windows, with 114 build to rent and 38 affordable apartments built on rear grounds.
Stead's Place will see the clearance of light industrial buildings with new buildings framing a newly formed street, which will enhance pedestrian and cycle connections to Pilrig Park.
New interventions will take the form of two linear blocks framing this street and punctuated by both traditionally proportioned windows and single windows where the lower half comprises an embossed metal panel.
Explaining their materials choice the architects said: "Ground floors consist wholly of brick which is also used on key gables of the development. A brick soldier course reflect the string courses of the traditional tenements. Upper levels are a combination of brick and render. A preformed horizontal string course between floors of the rendered areas reflects traditional detailing surrounding the site."
The sandstone frontage will be held as a long-term investment by Drum which will now seek tenants for the largely empty parade.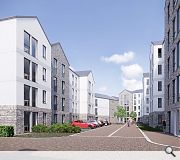 A linear block will screen the disused railway line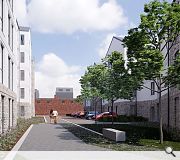 Options for opening up the north facade of the 1930s block will be explored at a later date
Back to December 2020