Urban Realm's ASA turns over a new page
September 29 2022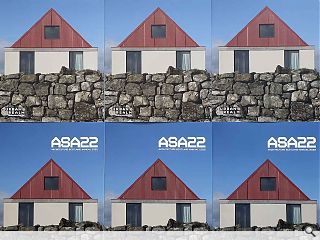 Urban Realm has unleashed the latest edition of our Architecture Scotland Annual (ASA), the volume which speaks volumes about the march of brick, steel, timber and glass through town and country.
Our handpicked selection of almost 100 projects embodies the spirit of construction, from an embrace of learning for all at Jedburgh Intergenerational Campus in the Scottish Borders by Stallan-Brand to nested old and new at Mannal House on the Isle of Tiree by Denizen Works.
It is residential work which dominates this year's selection however with a monster category delivering the weightiest contribution as the impetus to improve not move fuels a boom in home improvements, notably Seaview Room by Chambers McMillan, where a glass-walled dormer extension elevates an Edinburgh bungalow to new heights. Meanwhile the Hebridean House, a terrific courtyard home by Greig Penny Architecture, steals the limelight as our cover star, cutting a dash of red sinusoidal steel across the windswept landscape of the Isle of South Uist.
If you missed out on inclusion this year, do not fret, as there's still a window to get your projects through our door as we begin our hunt for the best buildings of 2023.
After scouring the country for the best new buildings, we are pleased to hand over the ASA22 from our hands to yours so pick up your copy in our shop.
Back to September 2022