National Robotarium to spearhead AI and robotics research
September 28 2022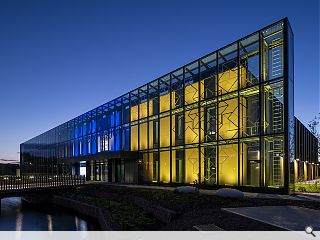 Heriot-Watt University has thrown open the doors to the National Robotarium, a £22.4m facility to advance the fields of robotics and artificial intelligence.
Delivered by Michael Laird Architects and Robertson Construction the 40,000sq/ft facility will develop novel technologies and product designs in partnership with IT provider Tata Consultancy Services (TCS).
Fusing research and development laboratories with ample green space and collaboration spaces the robotics hub centres on a dramatic 2.5-storey atrium around which all labs and workspaces are arranged.
Stewart Miller, CEO of the National Robotarium, commented: "Together we will deliver applied solutions across a range of challenges informed by TCS' clients, utilising the unique facilities of our new building and adopting an enhanced approach which aims to de-risk and speed up adoption in the market. We will shortly announce a joint programme of focused research, which will outline some of the future technologies required in the field of robotics and AI."
Emphasising sustainability and energy efficiency the glass facade will provide solar heating and circulate warm air during the winter months, while roof-mounted solar panels provide green electricity.
Photography by Paul Zanre
Back to September 2022