Brick blocks to build out a Finnieston car dealership
September 5 2022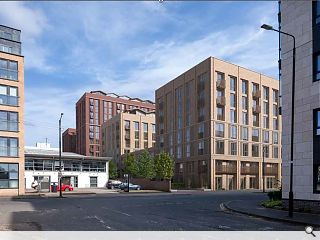 Fielden Clegg Bradley has returned with detailed plans for an 'urban neighbourhood' in Finnieston comprising 411 homes on the site of a disused car dealership.
A city block bounded by Finnieston St, Minerva St and West Greenhill Place has been chosen by Keltbray for the high-density scheme, which will deliver two distinct buildings ranging up to 14 storeys in height.
Rising from separate podiums segregated by a courtyard and garden the 0.95-hectare mixed-use build will tuck 608 cycle spaces as well as 59 electric charging-enabled parking bays out of sight.
Outlining the design process behind both blocks the architects wrote: "Block A reflects the finer detailing of historic and contemporary residential buildings along Minerva Street and St Vincent Crescent. It has adopted a lighter brick with matching mortar to reference the solidity of the historic masonry facades. Brick is adopted here, as opposed to stone veneers, because the construction technique with brick provides a greater sense of solidity.
"Block B is divided into two parts, a linear element along Finnieston Street and a vertical block within the centre of the site. A horizontal emphasis is adopted on Finnieston Street to emphasise the character of the block and nature of the street. The vertical character is naturally applied to the tallest block. Both blocks adopt red brick as their primary cladding with tinted mortar. This approach references the historic used of stone across Glasgow by blurring the smaller size of the brick masonry unit as opposed to stone."
Comprising a mix of apartments and maisonettes with rooftop gardens and ground-floor retail the project seeks to reference the early 20th-century industrial architecture which once categorised the area. The roofscape is reserved for residential amenities with lightweight rooftop structures zigzagging across the space in contrast to the masonry below.
The project team includes OPEN landscape architects, Clancy structural engineers and Turley as planning consultants.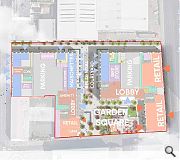 A range of complementary uses are planned for both residential blocks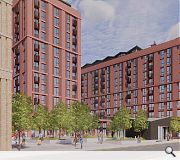 Extensive facade studies governed the final implementation of brick, tinted mortar and precast string courses
Back to September 2022