Carntyne sausage factory set to host 300 homes
September 5 2022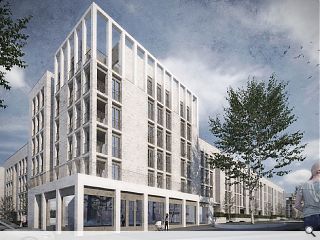 A former sausage factory in Carntyne, since demolished, has been chosen to host hundreds of new homes under plans developed by Carson & Partners with landowner Bradley Mitchell.
Addressing the prominent junction with Shettleston Road the brownfield site at 17 Old Shettleston Road will address the corner with a taller apartment block incorporating ground-floor retail as the lead element of the 300-home project.
Meeting the street with dense courtyard blocks the scheme will mediate in scale to townhouses forming a new street to the rear, extending the existing Manscroft Place, made possible by reducing parking provision. A new park named after the McKellar Watt sausage factory will be positioned off this street, including interpretation panels recounting the history of the site.
Animal motifs referencing this history will also be incorporated in the form of visual art gracing entrances and common areas. Further opportunities to expand the site towards the east are being discussed with Clyde Gateway which will connect the scheme toward Carntyne railway station.
Iain Carson, director at Carson & Partners, told Urban Realm: "We're speaking to local housing associations that are able to deal with this scale of development. It might be mixed tenure including housing for sale and market rent. It's all a balancing act to make it happen."
A live online event attended by the project team will take place on 13 and 14 September between 15:00 and 19:00. An application for formal planning consent is expected later this year.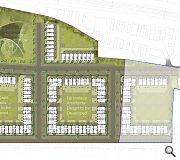 Land to the east is the subject of ongoing discussions with Clyde Gateway around further expansion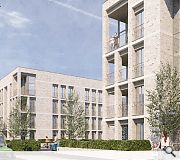 Meaty apartment blocks will enclose Old Shettleston Road as it splits from Shettleston Road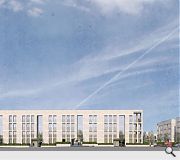 New streets, squares and a public park will kick the site back into service
Back to September 2022