'Sustainable urban neighbourhood' proposed for Finnieston
March 10 2022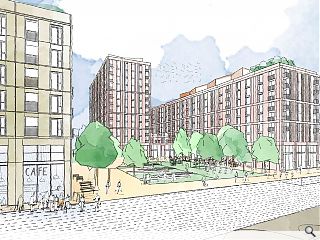 Fielden Clegg Bradley Studios have trailed plans for a 'sustainable urban neighbourhood' in Finnieston, Glasgow, of between 400-425 homes.
A 0.95-hectare site bounded by Minerva Street, Finnieston Street and West Greenhill Place has been purchased by Keltbray Developments to accommodate hundreds of build to rent apartments alongside flats for private sale.
Focussed on improving pedestrian and cycle permeability to encourage car-free living the development will incorporate a new east-west street and ground floor public spaces and a central plaza overseen by Open to establish a sense of place.
The new route will be controlled by raising bollards to limit vehicle access with a planted 'feature wall' establishing a northern edge to the development.
A digital consultation event is scheduled to take place this afternoon between 15:00 and 19:00 at which the plans will be presented in greater detail.
The development forms part of an urban block that includes a former brass foundry, which is itself up for redevelopment.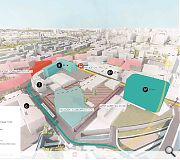 All open space is public with podiums and roofs reserved for resident amenity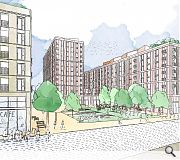 Cafes and retail units will line the ground floor of Finnieston Street and a central plaza
Back to March 2022