Street hugging Dundee student flats planned after proposed tower is dropped
August 5 2022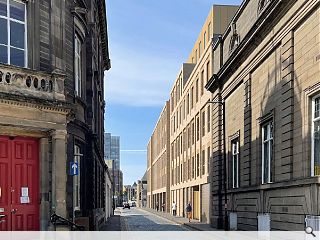 KR Developments has dropped plans for a high-rise element at Dundee's latest student housing development in favour of a horizontal block following a discussion with planners.
Comprising 242 student beds the South Ward Road project is helmed by 56three architects who will transform a 0.22-hectare wedge of brownfield land connecting North Lindsay Street and Barrack Street.
Adopting a linear form accommodation will activate the street edge with a ground floor collonade with a two-storey setback mirroring the approach taken with Dundee House.
Visually split into thirds by two bay recesses the development centres on the main entrance and foyer space at the centre with open views through to a rear courtyard. 354sq/m of ground floor amenity space, including a gym, laundry and lounge, will be provided with ground floor studio apartments pushed to the rear elevation.
Outlining the planned appearance, 56three wrote: "The proposal pays significant attention to the scale and grain of the surrounding buildings, in particular the heights and levels of principal horizontal elements of The McManus Collections Unit which the new building abuts.
"Although the interior floor to floor heights are necessarily very different as dictated by function, the strong lines of the cornice and upper entablature of the museum are referenced in the proposal. This is also true to an extent, of the first floor level of the museum."
Combining bronze/champagne coloured rainscreen with light buff brick for its public face and off-white render for secondary facades.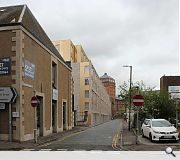 Designed with future adaptability in mind the student studios can be readily converted to mainstream accommodation if required
Back to August 2022