Japanese influences inspire architect's Hebridean home from home
August 8 2022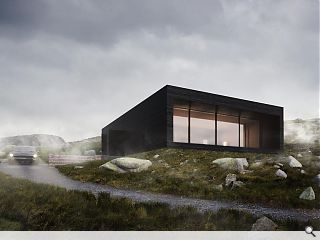 Architect Aiden Junor is set to break ground this November on a private home from home at Bunavoneader on the Isle of Harris.
Currently working for Fern + Birch Junor drew up plans for the remote two-bedroom getaway as a personal project in his spare time after being inspired by Ginkakudo, a Kyoto coffee shop he visited in 2019.
The 105sq/m property draws its dark aesthetic from an ink-dyed concrete and stone black aggregate floor, a fitting match for the dark stone and stormy skies which characterise the site.
In a design statement, Junor wrote: "Sandwiched between a new glulam and turf roofed house to the south and an early "kit house" cottage to the north, there is no immediate vernacular to the area. The proposed house will create a sheltered area for the bedrooms and bathrooms to the east - protecting them from weather coming off Clisham.
"In respecting the wider vernacular and complementing local farm buildings whilst adding a modern element the proposed building features black painted horizontal timber cladding with a flat roof. The only departure from the immediate surrounding architecture is the use of full-height glazing. The choice of black cladding is taken from the colours of Clisham and echos the stormy skies that often surround it along with the dark stone that is visible across the area."
Oriented to take advantage of open aspects across a whaling station at Loch Bun Abhainn-eadar the floor-to-ceiling glazing is set within a deep decked area to afford protection from the prevailing westerly winds.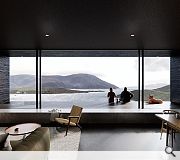 A decked balcony area will frame outstanding views of the exposed bay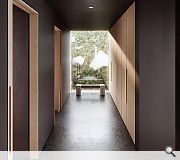 The architectural visualisations have been produced by Daniel Cardno
Back to August 2022