Dundee student flats reach out to DC Thomson tower
March 14 2022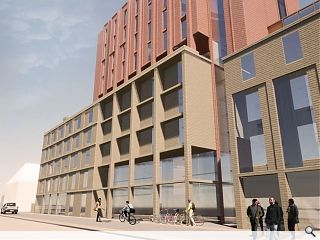 KR Developments have opened a public consultation into emerging proposals to deliver 230 student bedrooms at South Ward Road, Dundee.
A variety of ensuite studios and three to five-bedroom apartments are planned, including a fifth-floor rooftop amenity space as well as an on-site gym for the car-free build.
A fragmented urban block near Dundee House will be knitted back into the streetscape by establishing a hard edge while retaining an interior courtyard as outdoor amenity.
Matching a lighter brick along South Ward Road with red brick for the taller element, a nod to the nearby DC Thomson headquarters, the project will make use of emphasised brick piers to draw attention to the entrance block and fifth-floor amenity space.
A formal planning application is expected from 56Three Architects in the summer.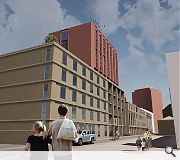 A high-rise element will face off against the nearby DC Thomson tower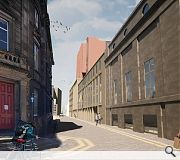 Apartments will re-anchor the building line
Back to March 2022