Ross Barrett
Ross Barrett is a project architect with HLM architects working Passivhaus designs for Scotland's Housing Expo. Here he shares an ongoing diary of the construction process.
Windows, Doors and Pressure Tests
July 13th, 2010
Since our last blog, the fitting of our windows and external doors has been completed and, although they took a little longer to fit than first expected, they do look fantastic and mean that our envelope is now wind and watertight.
In terms of our Passive House standard, the windows and external doors play an extremely important role in the overall envelope, maintaining a fine balance of contributing to the high performance envelope (windows and doors have U-Values of 0.8w/m2K) but also importantly allowing solar gains into the spaces which help reduce space heating demand.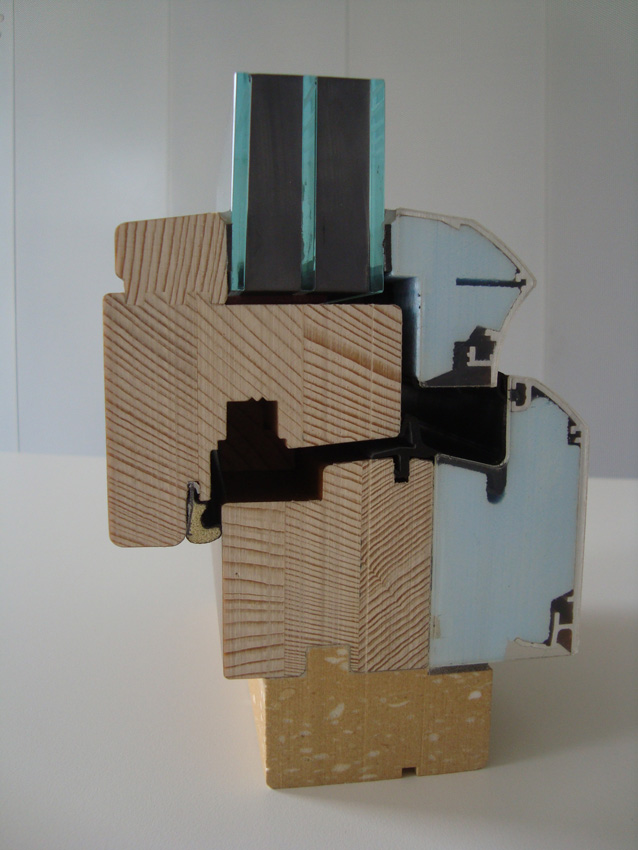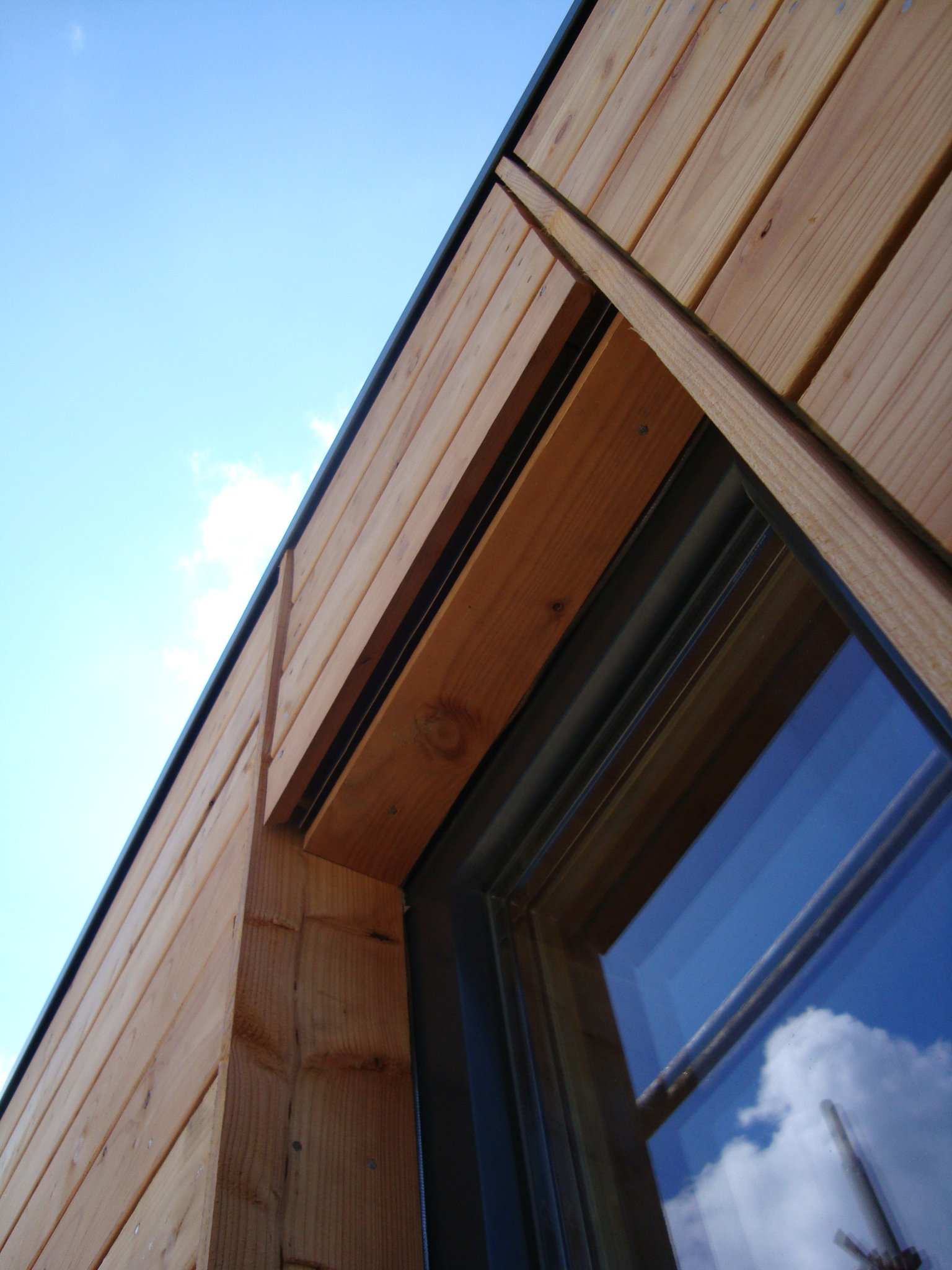 The units we chose to use are Internorm 'Edition' windows and doors from Austria (supplied through Dynamight Internorm in Rosyth) with the glass-to-glass corner windows made to the same specification from Bohler Fenster in Germany. They are both high performance composite timber/aluminium windows which are triple glazed (using high performance spacing bars) and are already Passive House certified by the PassivHaus Institute in Germany. The two glass-to-glass jointed corner windows allow some really good views and a nice visual connection back up to the heart of the expo site, the village green.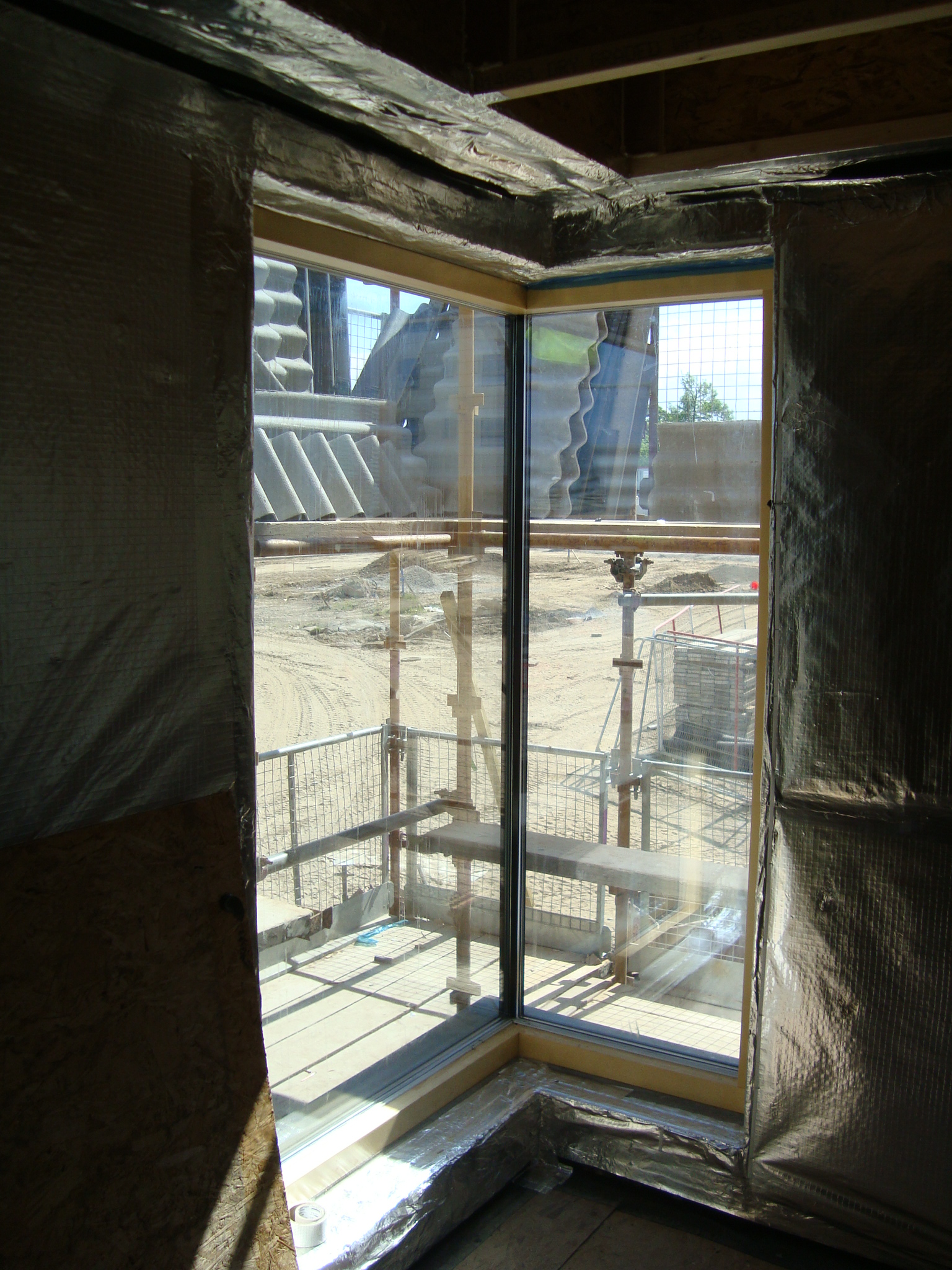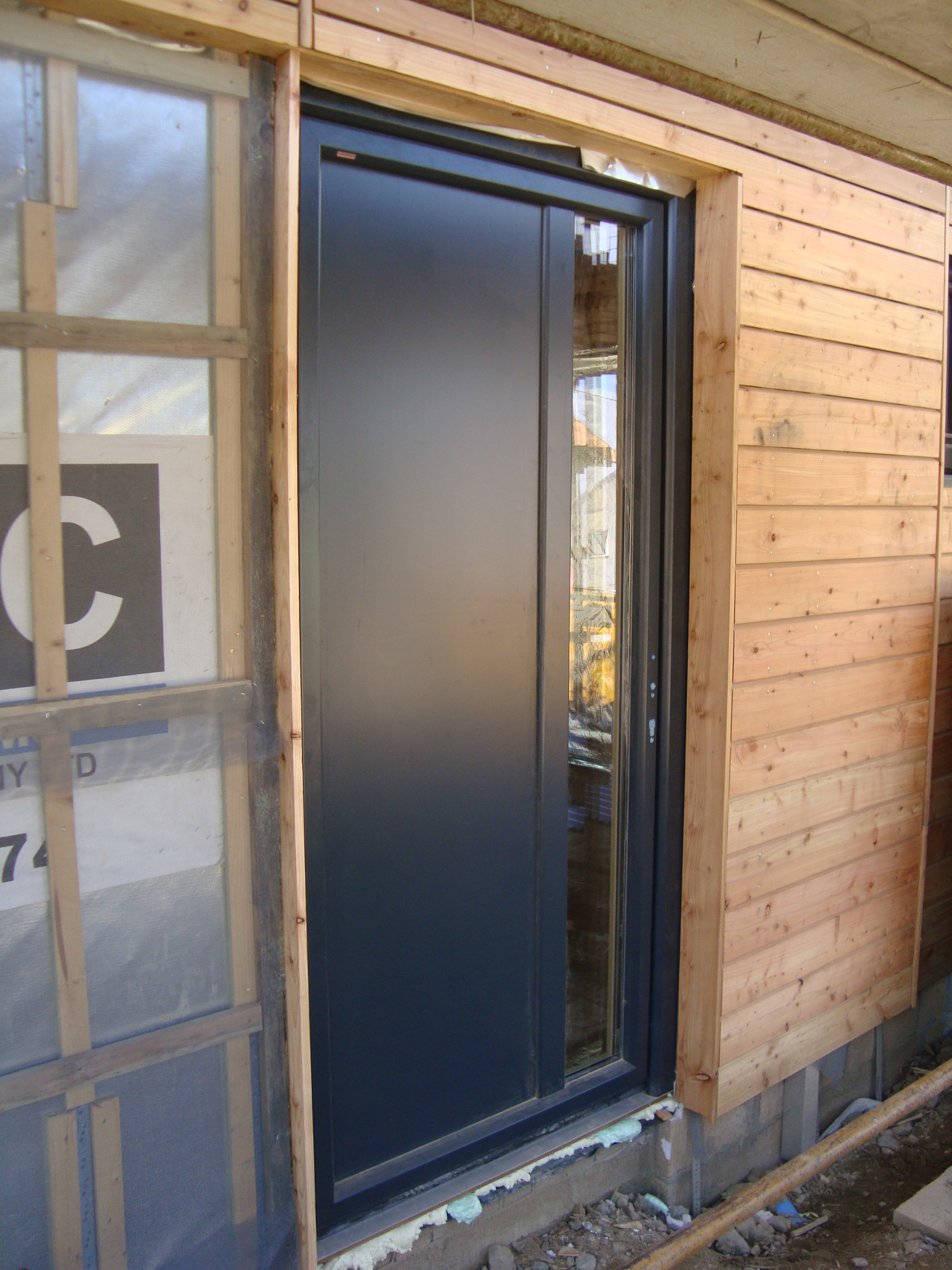 As the windows were being completed the team was able to begin a very patient and intense final check on wall, floor and window/door junctions with RTC Timber on site again for a few days. Air tightness is crucial to the effectiveness of the Passivhaus. The connections between the various components of the building, such as the floor-to-wall, wall-to-roof or window junctions, are often the areas where air leakage can occur, as movement between the different materials can lead to air loss. The air tightness of the building is also essential for the MVHR unit to run efficiently.
Alan from RTC did a fantastic job with a couple of O'Briens joiners over 3 or 4 days and I think they must have cleaned the local supplier out of EDPM and foil tape.  We used a self adhesive EPDM film to seal wall panels and floors and a self adhesive foil to seal window, door and other small junctions. We also used some polyurethane foam to fill some small awkward joints around timber junctions etc. On a standard project, silicone would normally be used to seal many of these junctions, although this only works for a relatively short period of time, eventually breaking down with the expansion and contraction of materials, whereas an air tightness tape such as Illbruck will accommodate that movement. The tapes and foils we used were all carefully specified using RTC's own experience and were chosen to last and perform over the lifetime of the building.
Internally the high performance vapour barrier was also carefully taped and sealed. This will be left intact with minimal penetrations - all services will run in a clear 20mm service gap on the inside of the frame. Any staples or nails through the membrane are deemed to also close off and seal the membrane again.
As we arrived on site, final preparations were being made for the air pressure test (or blower door test). Passive House certification requires our building to have an air permeability of 1m3/hr/m2 or less (equivalent to an air tightness of 0.6 air changes) at 50 Pascals (Building Regulations standard is currently 10m3/hr/m2). The air tightness is tested by closing all openings to the outside such as windows, doors, Mechanical Ventilation Heat Recovery (MVHR) intake and extract vents and any other outside penetrations such as waste connections and slab penetrations, and with a variable speed fan fitted to an adjustable frame in the external door opening. By controlling fan speed, the internal pressure is lowered by 50 Pascals from the external pressure which mimics a wind speed against the building of about 20mph.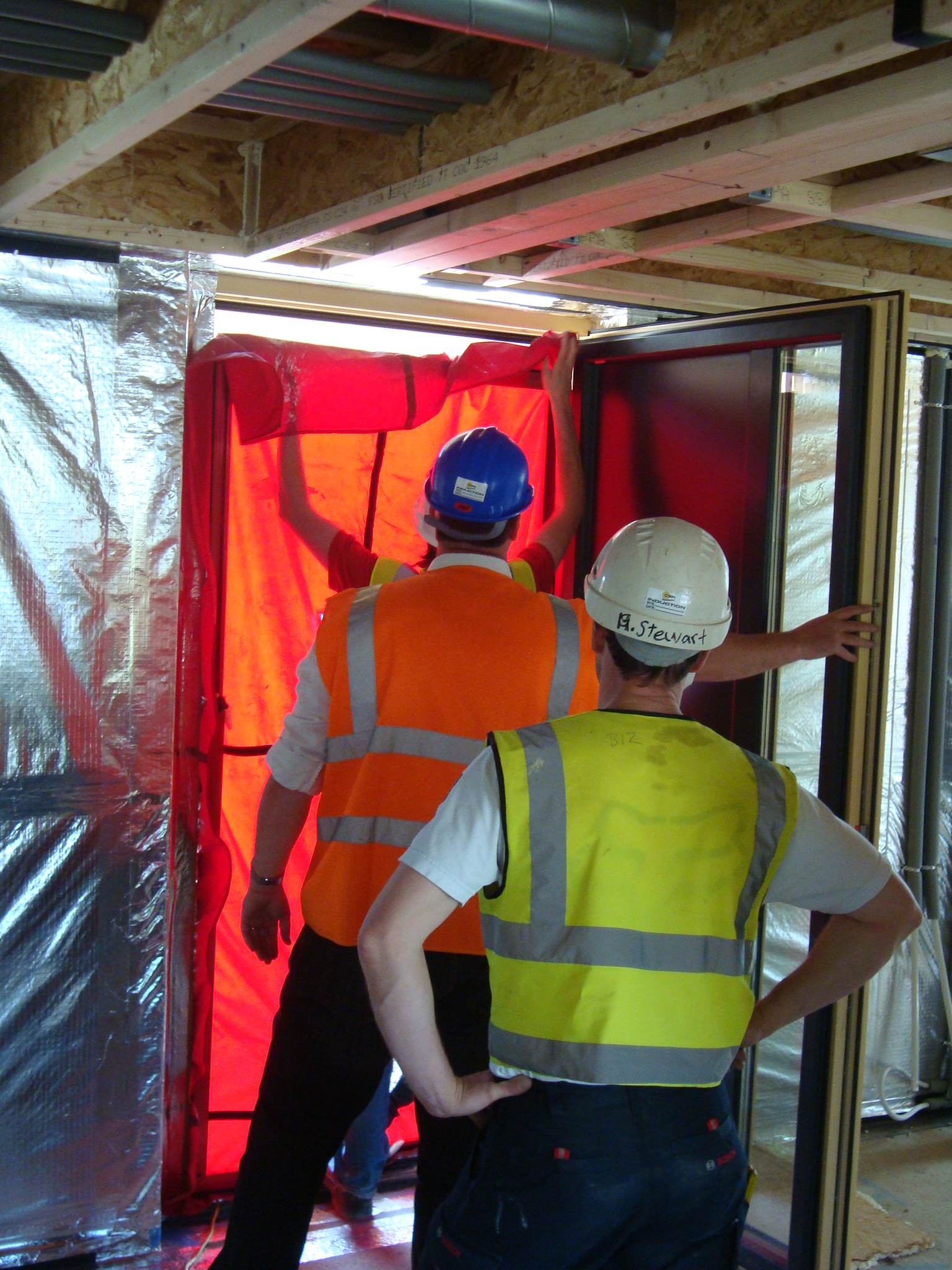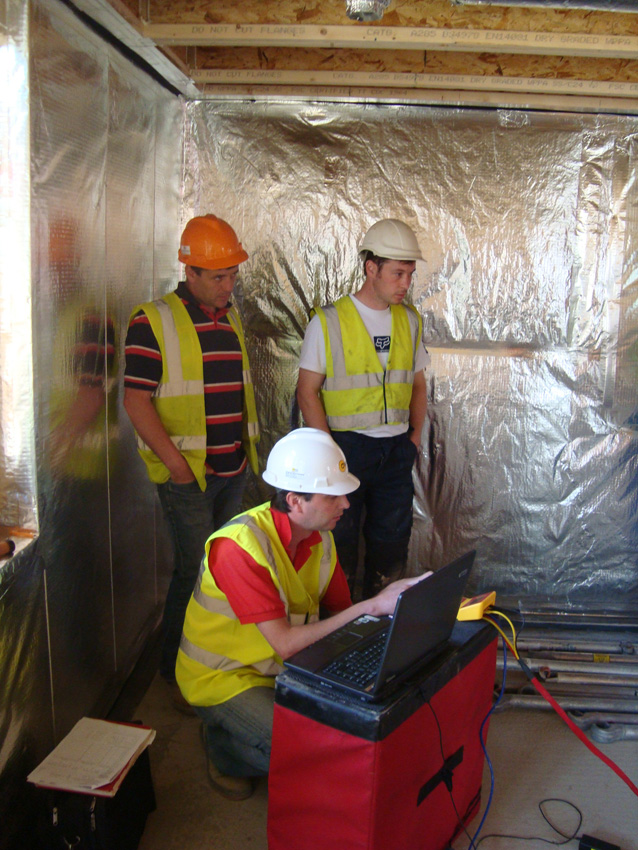 The fan is then used to pressurise and depressurise the building. The airflow rate that is required to maintain a number of particular pressure differences across the building envelope is recorded and measured – with the leakier the building, the more air flow required to maintain a given pressure differential.
With a bit of tweaking initially with fan speeds etc we got a first reading of just over 1m3/hr/m2 meaning we weren't far away. By carefully examining junctions around the first house we were quickly able to identify where small areas of leakage occurred and were able to use some additional tape or foam to seal these areas. We were also able to do a smoke test and by going round some small vulnerable areas we could quickly identify where there were very small air leakages some of which can be resolved later by small adjustments in door or window openings etc.
The 3 main areas where we found air leakage were:
1 - Around 2 of the window frames where it appears the seals may not have been installed as well as they could have between the window unit and the timber frame.
2 - We found some very slight leakage around the seals on the large sliding doors – maybe a lesson not to specifically use these in passive house however we hope that these can be adjusted slightly to increase air tightness.
3 - Once the house was pressurised, some of the air seal tape to the upper floor cassettes was coming loose. We corrected this by using some temporary tape but think in future we might use a spray adhesive on the OSB prior to sticking the air seal tape down.
In the end, we achieved an average result of 0.92m3/m2/m2 (on the first house) which we are all really happy with. Whilst we may have all been hoping for something a little more significant given all our hard work, this is what we need to achieve our passive House certification and in that respect we are all delighted and relieved! It took some time to set up the other units and catch some small areas of leakage but all units passed the test! Our tester believes that our units are in the top ten of air tight residential buildings in the UK.
Once plaster boarding and other second fix joinery work and finishing has been completed, we hope that this figure could be significantly bettered although we are not required to do a second test for Passive House certification.
I think it's fair to say that this result wouldn't have been achieved without the great working relationship we have had with timber frame supplier RTC and the main contractor O'Brien properties. Throughout the process, all of the team has understood their part in the process and have given their commitment to get the air sealing and envelope right. This was really only brought about by the early inclusion in the process of both RTC and O'Briens. In the end however it has been a learning process for us all and will be easier next time round!
The external cladding works are just about complete with the timber and vertical profiled sheeting looking pretty sharp, although there are a few small niggling issues with the timber cladding and the way it has been set out. Roof cladding and flashings are also complete.
We met recently with Steph Marsden from Craft House Concept who we are talking to about exciting ways of furnishing one of our units for the duration of the expo. Hopefully we can showcase some great contemporary Scottish made furniture and promote some great young furniture designers.
Some other great news recently on the funding of our landscaping, with confirmation that one of our gardens will be completed in line with our original sustainable garden concept.
No feedback yet