Yasmin Ali
Urbanism // Design
Event Preview: ACT Symposia Spring 2015
January 20th, 2015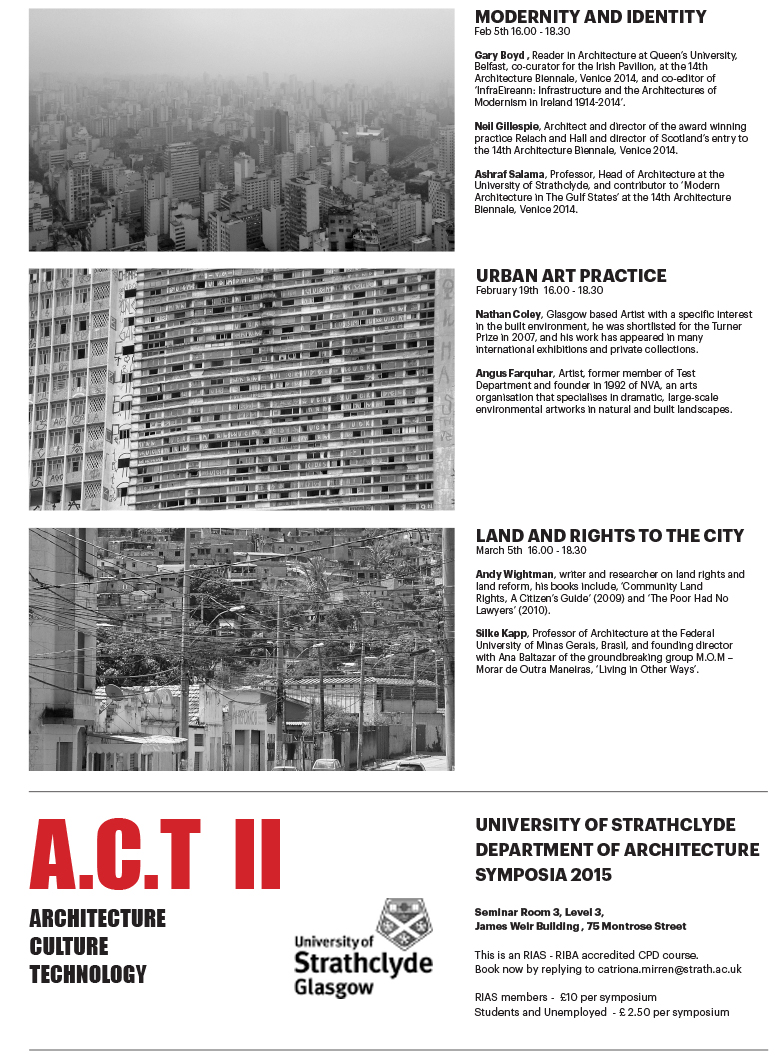 ARCHITECTURE CULTURE TECHNOLOGY Symposia Series
Strathclyde's Architecture school has announced their ACT programme for 2015, which builds on the success of last year's sessions. Award-winning artists, academics, artists, architects and writers have been invited for a carefully curated curriculum of Architecture, Culture and Technology seminars.
Current themes are:
Modernity and Identity
Urban Art Practice
Land and Rights to The City
The series begins on the 5th of February with Modernity and Identity. Speakers on this theme include Gary Boyd, Reader in Architecture at Queen's University, Neil Gillespie, Architect and director of  Reiach and Hall and Ashraf Salama, Professor, Head of Architecture at the University of Strathclyde. All three esteemed speakers also have a connection to the Venice Biennale Architecture programme 2014.
Each session takes place on a Thursday evening, from 1600-1830. The symposia are open to all. For professional architects this is an RIAS-RIBA accredited CPD course.
Dates for sessions:
Modernity & Identity 5th February;Urban Art Practice 19th February;Land Rights to the City 5th March
Times: 1600-1830 for all sessions
Venue: University of Strathclyde, Department of Architecture,  75 Montrose Street
RIAS members - £10 per symposium; Students and unemployed - £2.50
For more information and to book please reply to catriona.mirren@strath.ac.uk
// Reviews to follow
No feedback yet