Yasmin Ali
Urbanism // Design
November 21st, 2013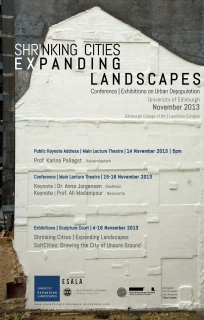 ESALA organised and hosted a three-day interdisciplinary design conference from 14th-16th November seductively-titled 'Shrinking Cities: Expanding Landscapes'. The programme included three keynote lectures and four panel discussion cross-cutting a range of discourses, including landscape architecture, urban planning, geography, sociology and urban design. The overarching premise was to break down the silos between these disciplines and encourage dialogue and shared interests regards themes of depopulation and urban sprawl.
Dr. Karina Pallagst, author of the reader 'Shrinking Cities: International Perspectives and Policy Implications, opened the conference with a public keynote address, on the evening of the 14th, followed by a reception and exhibition of related artwork, alongside a second exhibition of Masters' work from current architecture students at ESALA.The conference began in earnest for delegates on the 15th, with a keynote presentation from Dr. Anna Jorgenson of The University of Sheffield, who spoke of the potential role of green infrastructure in shrinking cities, and the evolving role of landscape architecture throughout history.
The morning continued with the first panel discussion based on three separate talks from scholars from Greece, Italy and Edinburgh. Evangelina Athanassiou from The University of Thessanoliki recounted the city's grassroots' measures for its contested public spaces in the wake of the recent fiscal crisis. Paola Sabbion, a PhD candidate from The University of Genoa, gave a theoretical talk discussing the dialectics of the void and its role in the essence of landscape for her paper of the same title. Finally, Lisa Moffit, an academic at The University of Edinburgh presented ideas based on entropy as a means of expression of the spatial and temporal qualities of post-industrial landscapes.
The afternoon featured two panel discussions, the first of which featured two engaging self-initiated research projects, plus an interesting presentation on a German response to excess urban space and housing stock. The first was from John Bingham-Hall of UCL who went to Detroit to set up an open-studio gallery, documenting the features of public space around the city, together with his project collaborator, photographer Lucinda Chau, to provide a counter-image to the current festishised images of wastelands popularised by urban explorers/photographers. The second project was by anthropologist Caterina Borelli who spent a year in Sarajevo documenting and studying citizen's attitudes and the current state of its Mountain, Mont Trebevic, which has been somewhat divorced from the city since its use in the Bosnian-Serb war of 1992-95 as a siege point. The closing panel discussion included a presentation from a spatial and policy planning perspective from Stefanie Roessler. East Germany has shrinking municipalities, and has invested in an urban restructuring state programme (Stadtumbau Ost), which managed the demolition of 300,000 flats to help stabilise the housing market. The flipside is the implication for greenspace development and the resultant increase in vacant sites.
The closing panel discussion of the day featured three excellent talks themed around the notion of urban vacancy from American academics. Galen Newman from Texas A&M University introduced the concept of urban shrapnel to describe the interstitial biproduct of creating urban spaces. In a clear and well-structured presentation, Newman elaborated on this concept discussing the spatial distribution of non-productive spaces; deindustrialisation; and typologies of underused unproductive space. Kees Lokman from Washington University in St. Louis, presented an essay entitled 'Vacancy as a Laboratory: Toward an Urban Land Ethic'. This focused on the potential of restoration ecology as a strategic framework to raise the economic, ecological and cultural value of vacant lots. Lastly in this series, Sandra Albro and Sean Burkholder presented a paper discussing stormwater management in communities with 'gap-tooth vacancy'. This problem is discussed in its context of cities in the Great Lakes region of the US, which can be funded from sources at a regional or federal level, with careful selection of location and scale of site-specific projects.
The conference continued the following morning with the fourth panel discussion of which two talks were presented. The first of these was from William Allen, from US NGO The Conservation Fund, whose work has inspired research in the UK and Europe. Allen discussed a green infrastructure framework for shrinking cities by defining green infrastructure planning and functional landscapes regards shrinking cities and offering an operational framework. Project selection undergoes an objective process known as suitability analysis by computer and logic scoring preference (LSP). Allen underlined the importance of also combining top-down policies with grassroots movements for balanced project prioritisation. The last talk in the final panel discussion again had an American focus, with Alessandra Coppola presenting on 'Alternative Urbanism in the Rustbelt'. This was a general paper in a hybrid research area transcending urban planning, policy, and its appliance. Coppola noted conditions within the US which make its shrinking cities different to those in Europe in terms of demography, including requisites such as poverty concentration; racial segregation; health crisis; economic weakness and fiscal crisis; as well as the real-estate sub-prime mortgages crisis. Coppola termed this combination an operational dystopia built on Keynesian, neoliberal principles, and cited the role of philanthropy and the emerging community development industry and movements as possible saviours.
The closing keynote was led by Prof. Al Madanipour of Newcastle University who gave an inspiring lecture on the spatiality and temporality of interventions on gap sites. He outlines three dimensions to space-time institution gaps, including pragmatic, transformative and existential qualities. Further to these, he notes three perspectives including those of different stakeholders, locating the project in the wider context of socioeconomic change, and the project's location in terms of space and time. Madanipour cites the pop-up shop movement as being currently in vogue and a means of temporary use of 'gaps', as well as the role of artists in reclaiming public space and their use in place-marketing, branding and gentrification.
The closing discussion to the conference tied together themes of scale, space, time, governance and economy regards shrinking cities. Also posited was the potential to counter the Modernist and capitalist assumption that successful cities are meant to grow, and to instead understand cities as fluid and decline as a natural process throughout history. Resilience was a theme alluded throughout the conference, along with capacity-building. Overall, the sessions were highly informative, inspiring and formed interesting reflections on praxis in urban design, planning and landscape architecture.
With Thanks to Mark Eischeid & Francisca Lima of ESALA
Weblinks
Conference website - here
ESALA - here
Situated Urban Detroit - here