Apartments to fill Portobello High Street gap tooth
May 9 2022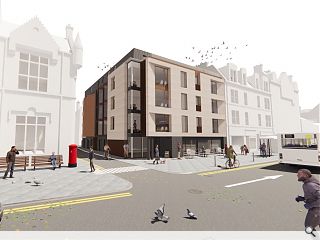 Unassuming storefronts at 120-124 Portobello High Street are to be swept aside in favour of a four-storey apartment block under new plans by Block Nine Architects.
Standing alongside the Baronial style Portobello Police Station the existing site is to be cleared in favour of a car-free new build more in keeping with its context.
Delivering 11 apartments above two ground floor commercial units the build will employ a combination of natural sandstone, dark and buff brick, corten steel, render and zinc.
In their design statement Block Nine wrote: "While the floor levels to not align with the traditional high floor to floor heights of traditional buildings the proposals tie in through continuity of use of the same natural stone material to the front facade and similar window proportions and rhythm as the neighbouring building. Through this approach the two adjoining buildings have a similar language and create a natural flow to the streetscape of the high street."
Turning the corner into Ramsey Place angled windows will be employed to prevent overlooking of the police station.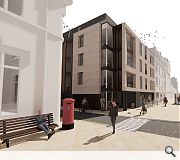 A feature will be made out of angled windows to the side elevation through the use of perforated corten steel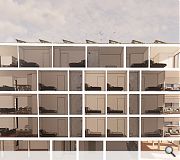 A mix of two to four bedroom apartments are planned including a ground floor bike store
Back to May 2022