Community outreach made simple at Kinning Park Complex
May 9 2022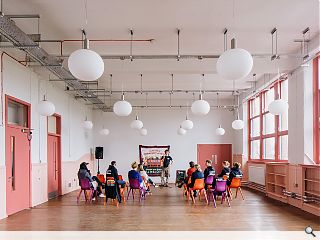 An innovative community centre has thrown open its doors in the south side of Glasgow, delivering a happy ending to a valued facility which had been threatened by closure following council cutbacks.
The Kinning Park Complex had been operated by the local authority until 1996 before a spiralling repair bill prompted its closure. Since then the local community first won the right to rent the space and run it themselves and later bought the structure outright to safeguard its future.
That process has now reached its culmination at the hands of New Practice who have re-used and reorganised the former school to deliver flexible accommodation for workspaces, conferences, classes and events.
First appointed in 2018 the team have used intervening years to open up the double helix stairs, now joined by a passenger lift and ramp access to ensure the hub is accessible to all. New Practice creative director Becca Thomas said: "This is an extraordinary ordinary building. It was designed as a space for learning in the community and is still doing that over a century later, operating both as a radical organisation and a place of shared comfort.
"Our architectural approach responds to this variety, centring accessibility and heritage to ensure longevity."
The project was made possible by a £1.2m grant from the National Lottery Community Fund Scotland as well as additional support from the Scottish Government's Regeneration Capital Grant Fund. The project team includes Armour Construction Consultants, David Narro Associates, and Max Fordham LLP.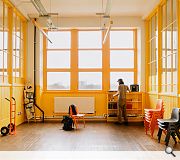 A bright colour palette provides a warm welcome to the community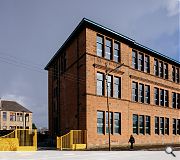 Dating from 1910 the building owes its origins as an extension to the former Lambhill Street School
Back to May 2022