Edinburgh Park goes green in workplace wellbeing drive
May 5 2022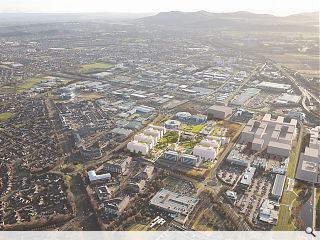 Early concepts for a 'new kind of workplace' have been aired for the former RBS HQ at Edinburgh Park as part of an evolving southern extension of the office district.
Shelborn Asset Management with 7N Architects propose to transform the site of the existing Drummond House by erecting a network of new office buildings to frame a large central park.
Edinburgh Green extends an ongoing push to densify the area by establishing an urban street frontage together with a public park which will include a mobility hub for pulling together active, public and electric travel options. To further green the area remaining car park provision will be concealed below landscaped decks.
In a statement, the applicant wrote: "The proposals respond to the significant shift in occupier priorities for workspaces to a focus on wellbeing and sustainability, in alignment with Edinburgh's pathway to Net Zero.
"In contrast to the existing site, which is dominated by low density suburban office buildings and surface car parking, there is the opportunity to deliver sustainable buildings that offer a diverse range of workspaces, enclosing a rich and varied park landscape."
The Younger Building is to be refurbished as part of the works to help minimise unnecessary demolition.
A full planning application is expected this summer.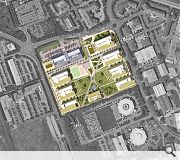 As many as 6,000 homes are proposed in an adjacent development by Parabola
Back to May 2022