Aberdeen Arts Centre to take centrestage at Queen's Square
April 26 2022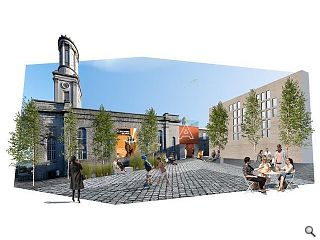 Aberdeen Arts Centre has lifted the lid on its contribution to a BDP-led masterplan for the city centre, by restoring the exterior of its A-listed Queen's Square home.
The former Greek Revival church at 33 King Street, now a 350-seat auditorium, will take centre stage in plans to turn the area into a mixed-use cultural quarter. A new frontage and viewing platform overlooking the former Children's Theatre, to be revamped as a standalone cultural space, are planned through interventions overseen by David Chouman Architect.
Chair of the board Moray Barber said: "The Arts Centre is the city's community-focused venue that provides accessible and inclusive theatre and arts experiences for everyone.
"And these new plans reveal how we will step up and support a thriving cultural economy that will transform our city centre."
Subject to funding around £600k will be spent refurbishing the building fabric with support from the City Heritage Trust and Historic Environment Scotland. A further £100k will go toward the installation of twin lifts and improved facilities.
Back to April 2022