Aberdeen city centre masterplan launched
March 10 2015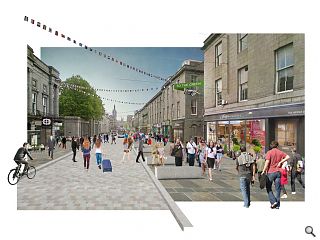 BDP have lifted the lid on their masterplan proposals for Aberdeen city centre, with the aim of eliciting public comments to shape the future evolution of the long-term vision, including the pedestrianisation of part of Union Street.
Delivered in partnership with Aberdeen City Council the consultation is aimed at reducing the disparity in wealth and quality of environment that is increasingly evident between the city and its fast growing suburbs – despite the oil bonanza.
Key components of the plan include transformation of the area around Queen's Square to form a new 'urban quarter' and the creation of a new square in the Castlegate/Castlehill area.
Elsewhere improvements will be made to the area around the railway station whilst a new pedestrian bridge will be installed over the River Dee, together with an enhanced riverside promenade and new business quarter at North Dee.
Councillor Marie Boulton, chair of the City Centre Regeneration Working Group, said: "The proposals are challenging, but the opportunity to transform our city centre for the better and ensure Aberdeen remains a busy, flourishing, cosmopolitan city which continues to experience strong growth and attract international business interest as well as increased tourism levels, simply cannot be missed.
"Our vision is to deliver a new city centre which Aberdeen, a truly global city, needs and deserves."
In a statement campaign group Aberdeen Beautiful said: "We will not be drawn on any conclusions about the masterplan until we have had the opportunity to view the full proposal. We are however hopeful that the public, together with planners, can create the exceptional design Aberdeen deserves.
"We hold some concerns over the timetabling and lack of notice over the public consultation. We do not feel the length or notice period for the consultation is sufficient, nor is there enough weekend consultation provided. Aberdeen is proud of its offshore workforce, it is disappointing and somewhat disrespectful that some might miss out on the opportunity to be involved in the masterplan due to shift patterns.
"A longer or staggered consultation process would be much more appropriate."
The consultation will launch this Saturday until 29 March at the International Market before being brought before councilors for approval this summer.
Back to March 2015